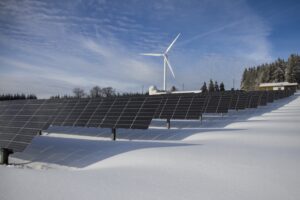 Renewable energy is a hot-button topic in the current economic landscape, and it continues to be a focal point of discussion among investors, legislators, corporate entities, and consumers. US businesses and corporations have more incentive than ever to make investments in clean energy, and recent legislation – as well as the state of the economy – has presented new opportunities and new challenges to an industry looking to work towards a green future.
What are these opportunities and challenges, and how are businesses and investors addressing them?
Investment Incentives Have Never Been Stronger
The Inflation Reduction Act of 2022 (IRA) includes $370 billion in investments aimed at securing America's transition to a zero-emissions future. A key provision in the IRA extends the current renewables production tax credit (PTC) and investment tax credit (ITC) to 2023 and 2024, at which time they will be sunsetted and replaced by the Clean Electricity PTC and Clean Electricity ITC.
The new credits are agnostic in terms of clean energy technologies (solar, wind, battery power, etc.) and instead offer emissions-based credits. The new PTC and ITC span 10 years, replacing credits that faced congressional renewal every few years. These credits are designed to make project planning more predictable and efficient.
While the IRA's clean energy tax credits should provide rocket fuel for investment in renewables, the industry seemed like it was stuck on the launch pad in 2022. The clean power industry added 25.1 gigawatts (GW) of power capacity in 2022, representing capital investments of $35 billion, according to the American Clean Power Association (ACP). However, installations were 16 percent below 2021 levels (a record year for renewables) and declined 12 percent from 2020.
Renewable investments face significant ongoing challenges, including lingering kinks in supply chains, inflation, trade policy hurdles, transmission-permitting reform, and logjams in connecting new power supplies to grids.
Supply Chain Disruptions Persist
At nearly 12.6 megawatts (MW), 2022 solar installations were basically flat when 30 percent growth was expected prior to the start of the year, according to ACP. Land-based wind installations were more than 8.5 MW, which was the lowest since 2018. Supply chain disruptions led to project delays for wind and solar in 2022, contributing to the 16 percent decline in overall renewable installations. In 2022, 48 GW of projects reported delays. Due to trouble sourcing panels, solar accounted for 64 percent of total project delays, and wind represented 21 percent. Battery storage projects were least disrupted, accounting for 15 percent of delays.
Utility-scale solar projects have struggled to source enough panels because the industry is dependent on imports from China. To reduce reliance on imports, the IRA includes a new Advanced Manufacturing Production Credit that creates tax incentives for development of clean energy component manufacturing capacity in the U.S. for:
Solar modules
Wind turbines
Battery cells and modules
Minerals processing
New U.S. plants with a capacity to build 40 GW of solar panels are in various stages of development, according to consulting firm Clean Energy Associates. However, many industry watchers suggest it will take years for such investments to significantly reduce U.S. reliance on imports.
Trade Scuffles Further Tighten Solar Equipment Supplies
U.S. efforts to foster a domestic solar equipment supply chain could run into trouble from a proposed plan by China to limit exports of some solar equipment. China may add the technology to make ingots and wafers used in solar panels to a group of products that are subject to export restrictions. China presently controls nearly all the global manufacturing capacity for solar ingot and wafer production and a significant portion of the market for the equipment used to manufacture them. If the controls go into effect, Chinese solar manufacturers would have to secure an export license from the local provisional government. China has not indicated when it would make a final decision on the restrictions.
In addition, the Uyghur Forced Labor Prevention Act (UFLPA) went into effect in June 2022, and U.S. Customs has since seized about $306 million in imports – mostly solar panels – as part of UFLPA enforcement. Industry watchers note the seizures have severely curtailed developers' access to panels and slowed utility-scale project completions, although the seizures are expected to drop off soon.
In December 2022, the Commerce Department also released preliminary findings that four Chinese solar cell manufacturers circumvented tariffs by routing products through four Southeast Asian countries: Cambodia, Malaysia, Thailand, and Vietnam.  A two-year suspension of duties was implemented on these countries in June 2022 to allow U.S. solar equipment importers time to find alternative sources, which has, in turn, triggered some supply chain disruptions.
Generating Clean Energy is Only Half the Battle
In addition to supply chain disruptions and trade barriers, renewables projects have been slowed by permissions and permitting processes that act as gatekeepers for new capacity additions; as a result, green energy generating capacity has been limited within the businesses and homes ready to use it.
Interconnection is the process whereby regional electricity grids approve capacity additions. As the solar, wind, and battery storage industries have grown, grid authorities have become overwhelmed with interconnection permission requests, and the process now takes approximately four years. And once a developer receives permission, the grid may be at or near capacity, requiring the addition of new transmission lines or other infrastructure upgrades and upping the cost of installations.
Assuming a clean energy development gains permission to interconnect with a grid after agreeing to invest in transmission upgrades, attaining the necessary permits to build out transmission infrastructure comes with its own set of headaches. In speaking to Wall Street analysts in late February, executives with the Edison Electric Institute (EEI) – a trade group that represents investor-owned utilities – said it was working with lawmakers in Washington to hammer out energy-permitting reform. Although the EEI is engaged in talks with Congress to help reform the energy permitting process, failing to reform it may lead to unmet energy transmission needs, stranding billions of dollars in investments just as the Inflation Reduction Act is poised to unleash a surge in clean energy development.
The Big Picture
Despite an array of obstacles, renewables will continue to add capacity and account for a growing share of overall generating capacity. According to a recent forecast by the U.S. Energy Information Administration, the U.S. will add 29.1 GW of new solar capacity in 2023, accounting for 54 percent of total generation additions. Wind is expected to add 6.0 GW, representing 11 percent of total new generating capacity. With 9.4 GW in new capacity, battery storage will have a 17 percent share.
Whatever 2023 holds for renewables and their related industries – as well as the rest of the U.S. economy – you can count on Vertical IQ to arm you with the insights and Industry Intelligence you need to develop and nurture stronger business relationships within those spaces.
Image credit: Alesia Kozik via Pexels