Having been a banker for 13 years and a relationship manager for five, I found that my sales process revolved around three basic groups: the business I had (my clients), the business I wanted (my prospects), and the people who championed my cause (my centers of influence). And a critical component of my sales process was a successful contact strategy for each of these groups.
My contact strategy was a way for me to build and maintain relationships, stay top-of-mind with business owners, establish my personal and bank's brand, and earn a reputation worthy of endorsement and referrals. Like every banker, I wanted to differentiate myself from the competition! That meant developing a strategy that would not only get me in the door, but earn me a seat at the table when a business owner had important money-related decisions to discuss.
A made-to-order approach
There's no one-size-fits-all method to communicating with clients, prospects, and centers of influence (COIs…professionals who can boost your market access and credibility through referrals, testimonials, and introductions). That's why I developed an approach that was tailored to each individual.                                                                             
First, I started by considering how frequently the business should be contacted – monthly, quarterly, semi-annually, or annually. I took a variety of factors into consideration as I made this determination: the business owner's personal preference, the revenue potential, the risk of attrition, referral opportunities, and my bank's credit appetite, just to name a few.
Probably the most vital component of my contact strategy was the content I planned to share via those touchpoints. I needed to select deliverables that would be of interest to the business owner and demonstrate my knowledge. I turned to Vertical IQ for industry-specific news articles, local economic information, financial benchmarking data, industry trends, and more.
Finally, I determined a plan to share these deliverables that utilized all communication channels.
Sealing the Deal
Converting a prospect to a client takes time. Most bankers agree it can take a minimum of eight quarters, but we've all had those prospects we've called on for years! And referrals from COIs certainly don't happen overnight. After working so hard to earn and develop these various relationships, the last thing I wanted to do was lose them to the competition.
For me, the key to success was staying in touch, and I took advantage of the many deliverables within Vertical IQ to remain top-of-mind. In fact, I found this tool so effective and the content resonated so well with business owners, I decided to join the Vertical IQ team!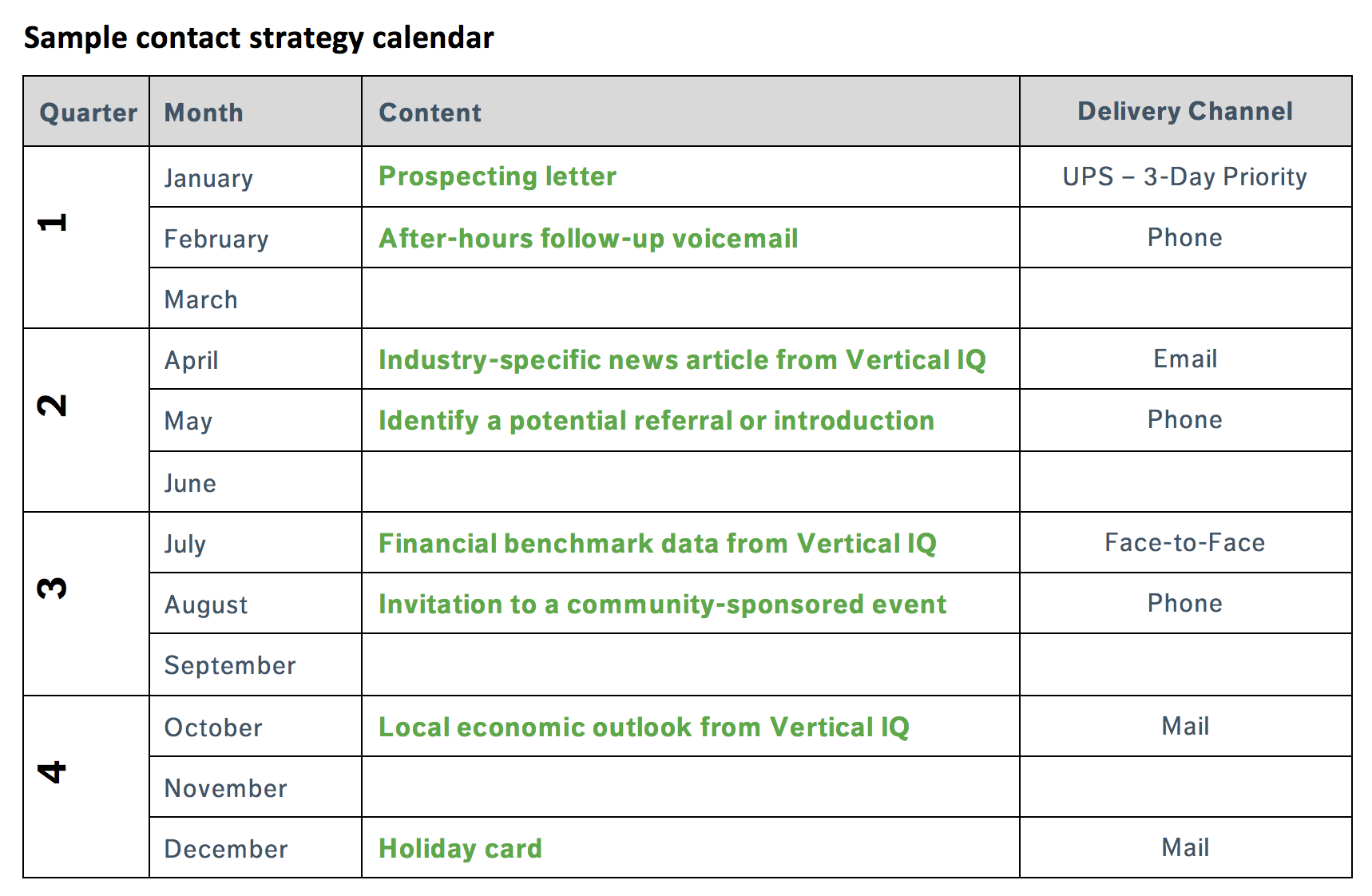 Creating your customized contact strategy
Bankers typically develop two types of contact strategies: one to get in the door with prospects, the other to remain top-of-mind with clients and COIs. Vertical IQ's content is valuable to integrate with both strategies, but it's important to consider your unique approach with each group. 
For prospects:

Identify industry concentrations within your local market. Research your market for the obvious, as well as the not-so-obvious, industry sectors driving employment and growth (e.g., technology, healthcare, retirement services, education, etc.).
Consider the concentrations within your existing client base. You may be well on your way to becoming an industry expert (if you aren't already one!). Focus that knowledge and expertise on attracting prospects and new business.
Develop areas of personal interest or a niche. If you're starting your "prospecting by industry" efforts with a blank slate, make a few selections based upon your own personal interests (e.g., a hobby, a family business, a prior career, etc.). You might also consider exploring a niche market.
For clients:

Group clients by industry. Grouping clients together by the industry in which they operate will help you quickly recognize concentrations within your book of business.
Look for industries with cross-relationships. These are clients operating in industries that support or rely on other industries because of the nature of their business (such as a manufacturer needing a transportation provider to deliver products, or a physician needing a lab to run tests).
Identify high-revenue potential, high-value clients. Look for clients where there is opportunity to deepen the relationship and move wallet-share.
For COIs:
Create and market your compelling value proposition. COIs want to see that you have something special to offer both them and the people they would potentially refer to you.
Convert current clients into your champions. COIs that are already your clients are usually easier to convert into champions. The fact that they bank with you hopefully means they see value in your bank's culture and strategy. Non-client COIs might have to be "courted," similar to courting a prospect.
Find your tribe. Although you want to look for COI partners who complement your services, it's just as important to pursue relationships with compatible attributes such as integrity, responsiveness, transparency, sense of urgency, commitment to client service, passion, etc.
Adding value to each relationship
There's a reason the term "relationship manager" has been adopted by so many banks of late, forsaking terms like "business banker" or even "client manager." In today's competitive economy, cultivating new banking business really is all about developing relationships with business owners. And to nurture those relationships, you must develop an effective contact strategy that will help ensure prospects, as well as your current clients and COIs, think of you first when they are considering banking services.
So, when you strategically reach out to business owners, try sharing the industry-specific information found on Vertical IQ, just as I did when I was a relationship manager. You will soon discover that it is a simple, but highly effective, way to offer value with each touchpoint.
Nicolle Bouffard | Director of Bank Success