How time flies when you're having fun! This is the first in a series of four blog posts commemorating the 10-year anniversary of Vertical IQ. Each post will feature one of our company founders sharing their memories and thoughts on Vertical IQ's early days.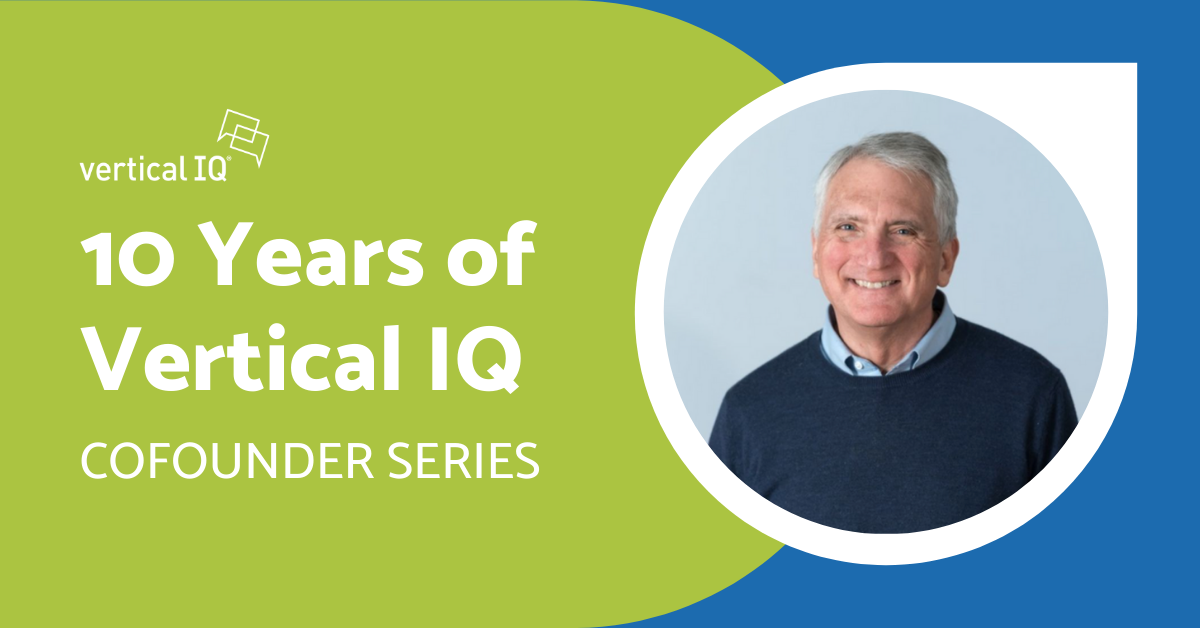 Vertical IQ co-founder and EVP of Product Strategy Bill Walker has been working in the technology product management arena for over 35 years. Here, Bill reminisces about the creation of Vertical IQ.
"It's a little-known fact about Vertical IQ that the original name we came up with was Vertical Guru. We were trying to think of a name that not only stood out but suggested the vertical marketing concept with industry focus and how to make yourself an expert or a 'guru' on a particular industry.
"As part of the company formation process, we did a trademark search and found there was a company in California called 'Virtual Guru.' Although that business wasn't anything like our product concept, we ultimately decided to go with the name Vertical IQ instead — a name that Beth Potter on our news articles team came up with.
"While all of this was happening, we had a design firm conceptualizing some logo options for 'Vertical Guru.' One of the ideas they came up with was intersecting conversation blocks, which we ultimately used for the Vertical IQ logo we still use today.
"In November of 2011, we officially debuted Vertical IQ at the annual Small Business Banking Conference in Scottsdale, Arizona. It was our first marketing event, and the entire company went … all four of us.

If you build it…
"Vertical IQ was born out of an idea that bankers needed Industry Intelligence information specific to banking. We went to several key contacts at banks across the country and asked, 'If we built this, would you buy it?'
"We created a rough prototype that we could show people with an example profile and solicited their feedback to fine-tune the concept. We got several banks that said they were interested, but we knew we didn't actually have a marketable product until we had a certain number of Industry Profiles written.
"We called on experienced technical writers we'd worked with in the past, and we were able to initially go to market with 50 of the most prominent industries. It's pretty amazing to think that we now cover over 350 industry niches, as well as hundreds of local economies!
"I recall another somewhat comical episode from this time period. Our first official customer asked us to complete a due diligence questionnaire as part of the contract process — a fairly standard procedure for a lot of larger companies. I remember one of the questions on that form was, 'Please list your company's other customers.' We wrote in, 'None.'
Always improving
"Soon after launching we decided that adding industry videos would be a worthwhile, differentiating enhancement for the Vertical IQ product. At that time, we were filming the videos ourselves, trying to find places where we could go in and film a food distributor, for example. I remember I was recruiting business owners from my church, and I joked that people there wouldn't make eye contact with me anymore for fear I'd ask them to be part of a video!
Vertical IQ then and now
"Vertical IQ's product has evolved quite a bit over the years, but we continue to listen to our customers for ideas about how to make it better. We're constantly adding new profiles, new content, and enhanced features and sections to provide customers the type of Industry Intelligence they and their teams need to succeed.
"I am proud of what we've accomplished over these 10 years, but the thing that stands out most to me is getting to work with people who I really enjoy working with — people who have passion about taking care of customers and doing the right thing."