This fall, our associates recall experiences from the events, conferences, and panels we attend by pulling five thoughts related to Readiness, business growth, and Industry Intelligence. This is the first blog based on our fall lineup of events!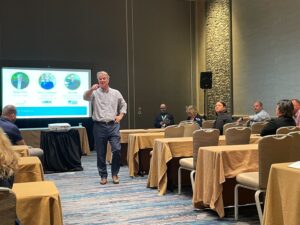 As I reflect on America's Small Business Development Centers (SBDC) Conference from last week, I find myself thinking about our own business here at Vertical IQ. Even though we're hardly "small" these days — we have business in more than half the states and cover over 97 percent of the U.S. economy and Canada — I recall, as one of Vertical IQ's co-founders, how crucial those first days of the business were.
The function of America's network of SBDCs is to help start and grow small businesses. SBDCs across the country are affiliated with entities such as universities, colleges, state economic development agencies, and private sector organizations, and each SBDC is unique in its approach to regional industries and businesses. Thousands of businesses seek counsel, training, and financial planning advice from their regional or state SBDC, and this is especially true of startups.
The "startup phase" isn't something unfamiliar to small business owners, but it is something that requires the right financials, the right processes, and the right people to execute the long-term vision you have for your business.
So that's what my "five thoughts" from America's SBDC conference revolve around today: What does it take to start and maintain a successful business? What differentiates a business, and why do some businesses fail and some prosper?
1. Keep a financial focus to drive business value
The conference session "More Cash Now" from Profit Soup brought up some very crucial points for small businesses and startups. They explained that one of the most important drivers of success is to keep the focus on the financial aspect of the business. The "financial side" of a small business encompasses a wide variety of topics and to-dos, but some notable tips from that discussion include:
Understanding cash flow
Having budgets for both cash and profits
Knowing how much financing you need and how to get it
Maintaining a financial focus
All of these points – and especially that last one – are crucial in making sure that you have both a strong foundation for your business and enough business value to drive revenue and growth.
2. Understand the value of a day
People often emphasize the importance of taking advantage of the time in your day. We can go on and on about how much a day is worth, but what about understanding the value of a day and what constitutes that value?
By understanding what the value of a day means, businesses can improve cash flow. For example, if receivables are at 55 days and you can reduce them to 30 days, knowing the value of what each day costs you can give you a tangible goal and increase cash flow. Taking this approach is extremely important when developing a successful business plan.
3. Have a plan that involves a team approach
Speaking of business plans, they don't mean much without a team! Taking a team-oriented approach to any business plan, big or small, pays dividends when it comes to growth and success. This includes knowing your short-term and long-term financial goals, evaluating those goals monthly, incorporating the plans mentioned earlier for both profit and cash, and making sure each employee involved in the process has the same focus. Implementing a team approach to business planning will delegate responsibility and ensure each team member is fully contributing to meet your stated goals.
4. Create a culture of kindness by measuring "the right things"
At the conference's general session entitled "Kindness at Work," there was an abundance of thoughtful and helpful information from James Rhee, who became the CEO of a minority women's plus size retail clothing business about to enter bankruptcy again. He explained how "creating a culture of kindness" helps increase output from employees and heighten net promoter scores. Some important points of emphasis included:
Letting "love" be the center of your business
Understanding that loyalty and trust cannot be bought
Measuring "the right things"
As an example: Rhee's team valued time off with family, so with the money the company saved over seven years on workers' comp, which went down 99 percent, he paid the employees with time off instead of raises (which ended up equating to 20-25 percent raises) because that is what they valued. His business's devotion to measuring health and happiness helped contribute to a net promoter score of 90!
5. Imagination trumps knowledge
Imagination is perhaps the simplest yet most profound aspect of growing and retaining a successful business. I know we talk about knowledge and the importance of Industry Intelligence all the time here at Vertical IQ — and industry knowledge is crucial to success — but it is hard to continue building knowledge and intellect without embracing imagination. And sometimes this requires a "reset" of everything you think you might know.
Be a kid: unlearn what you know as an adult and approach problems like a kid would. Be curious, ask questions, and let imagination take the wheel every now and again!
>> Want to learn more about Vertical IQ? Click here for more information and to obtain a free demo.
Image credit: Courtney Farfour and Nicolle Bouffard DeLiso, Vertical IQ