This fall, our associates recall experiences from the events, conferences, and panels we attend by pulling five thoughts related to business growth, Readiness, and Industry Intelligence. This is the fourth blog based on our fall lineup of events!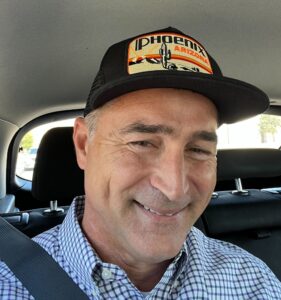 Although I was born and raised in North Carolina, I think I would have made a good Arizonian. During my trip to last week's 6sense Breakthrough User Conference in Scottsdale, I learned that I like green chiles – which seem to be on every sandwich and in every dish – and I enjoyed authentic huevos rancheros.
And most importantly, I think I sort of pulled off this cool Phoenix hat (pictured to the right – thanks, 6sense!). Perhaps my family will help decide that, but my Uber driver liked it – and that earned him a few bucks extra on his tip!
But all the Arizona funfare (and a Kourtney Kardashian sighting) aside, our partners at 6sense put together an amazing event. It was a fantastic conference full of valuable insights and information, and I took a lot of that with me when I left: What can sales professionals do to sell value to their prospects and customers? How do businesses develop relationships with customers that foster growth and success for both the business and the customer?
Redefining "personalization"
"Personalization" is perceived by some as a trick in today's economic environment; no one likes the feeling of being tricked or manipulated in sales and marketing interactions. So what can sales professionals do to ensure that their method of personalization remains genuine?
Making personalization real starts by understanding the business your customers are in. Showing customers that you care about their goals, understand their business challenges, and possess knowledge about their industry, signals to them that you want to help them succeed and that you are a "trusted advisor" – and if they can trust you, they are more inclined to trust the product you are selling to them. A tool like Vertical IQ's Industry Intelligence helps you achieve this easily by providing the industry insights (profit drivers, trends, challenges, current events, etc.) that can help you build a relationship.
Having this knowledge helps sales professionals and business advisors incorporate four factors – relevance, timing, fit, and behavior – into conversations to create that personalized and authentic approach.
Communicating value proposition
It not only matters that you communicate your value proposition – it's also about communicating it effectively. It is important to get to the essence of what your solution is trying to accomplish rather than including all the "fluff" and sales speak.
For example, a great way to communicate Vertical IQ's value proposition to sales professionals is: "Vertical IQ provides specific, relevant, and timely industry insights to enable sales professionals to connect with their business customers and drive meaningful conversations." This states exactly what the solution does, and it emphasizes the value of not only the solution itself, but also its value to sales professionals specifically. Being able to adapt your value proposition to your customers, and audience, pays dividends and shows them you understand what they value for their business.
Don't just say something – have something to say!
"Obsessing over the numbers"
6sense CMO Latané Conant challenges herself daily, and she challenged those at the conference to "obsess over the numbers." She suggests diving deep into sales figures regularly to understand how much needs to be created today, this week, and this month to meet your goals and drive your pipeline.
For me personally, this happens to be a timely challenge! I need to drive new partner opportunities and design activities that help supplement those opportunities, and I am also learning how to more easily discard the things that hold me back from meeting my goals and objectives. "Obsessing over the numbers" is helping me prioritize the importance and urgency of various tasks and goals because it gives me a benchmark to work from – and this same practice can apply in a similar way to sales professionals.
"Proceeding with confidence"
The conference's overall theme, "Proceed with Confidence," regarded combating uncertainty with self-assurance. Amidst the current economic challenges and the noise, it is easier for businesses to hunker down a little, and instead, proceed with caution. However, we are encouraged to "proceed with confidence" – so long as we have the right messaging at the right time for prospects.
You can make this actionable by:
Connecting with prospects in innovative ways
Seeking account-centric, go-to market strategies
Knowing and understanding the numbers
Letting go of the negatives that have set you back in the past
Drilling down on the "ideal customer profile"
Doing this creates the professional freedom to be positive in your approach because you know you have customers' and prospects' best interests at heart. And having tools like Industry Intelligence provides you with the insights to help develop actionable strategies and initiatives, as well as possess the confidence to have informed conversations with your customers and prospects.
Developing partnerships that matter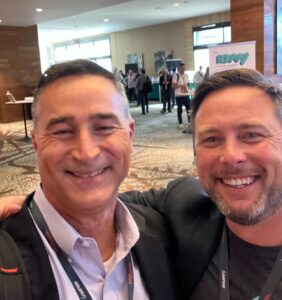 As Head of Strategic Partnerships, I attempt to channel my inner John F. Kennedy by saying, "Ask not what your partner ecosystem can do for you, but what you can do for your partner ecosystem."
It is my responsibility to evaluate the mutually beneficial relationship between Vertical IQ and a potential partner and assess whether or not this partnership would make a difference for not only our business, but also our customers. I really strive to be strategic in this, aligning with the right partners who desire high-value outcomes, and then examining our "give" in support of those mutually desired outcomes. How can two – maybe even three or four – partners come together to create a package of transformation for a customer? Understanding the value customers are receiving from different partners may create technological relationships that are repeatable and can make things better and easier for the customer. It is certainly a goal worth striving for!
This "package of transformation" is evident in our partnership with 6sense. Partnering with them brings tremendous value to Vertical IQ customers' B2B efforts. Deploying 6sense technology in your marketing and sales prospecting efforts helps drive visibility into which businesses are "in-market" to make purchases of your offerings. 6sense calls it "illuminating the dark funnel," and it helps eliminate the guesswork in reaching the right clients at the right time. Furthermore, 6sense helps identify when those businesses are "ready to engage." Armed with Vertical IQ's Industry Intelligence and Role-Based Prep Sheets, joint customers can engage and "proceed with confidence" by knowing the Who, When, and What to Say to ensure a successful interaction. After all, Readiness Wins!
>> For more information on how Vertical IQ's Industry Intelligence can help you "proceed with confidence" in your business interactions, click here!
Image credit: Paul Hock, Vertical IQ