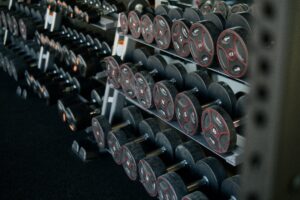 They say that beach bodies are made during the winter, and most fitness centers DO experience higher membership growth right after the winter holidays as people make their New Year's resolutions to lose weight or exercise more.
The fitness center industry was hard-hit by COVID-19, however, and still has not returned to pre-pandemic levels. But looking at revenue and employment numbers, the industry is once again flexing its muscles and on the upswing.
Thinking the fitness center industry might "work out" well for your client portfolio? Here's a look at how this niche operates.
The big picture of the fitness center industry
The fitness center industry consists of 31,100 companies that employ about 466,900 workers and generate $36 billion annually.
The industry includes independently owned centers, chains, and franchises.
Large companies include 24-Hour Fitness, Gold's Gym (TRT Holdings), Life Time Fitness, and Town Sports International.
A typical fitness center operates out of a single location, employs about 12 workers, and generates about $954,000 annually.
The number of health club members in the US continues to grow year over year as more consumers return to the gym, yet it has remained behind pre-COVID levels, according to the 2022 International Health, Racquet, and Sportsclub Association (IHRSA) Health Club Consumer Report released in November 2022.

The number of total active health club members in the U.S. reached 66.5 million in 2021, an increase over 2020; however, levels are approximately 9 million less than in 2019, pre-pandemic. Health club visits grew 41 percent to 4.5 billion total visits in 2021 over 2020, but that amounted to just 68 percent of pre-COVID levels.

Overall employment by fitness centers increased 13.9 percent in September 2022 compared to a year ago, according to the latest data from the Bureau of Labor Statistics.
Trends within the fitness center industry
Industry growth impacted by COVID
Overall, membership has grown, up 3.6 percent in 2016, 6.3 percent in 2017, 2.6 percent in 2018, and 2.7 percent in 2019, according to IHRSA. Revenue grew 8.2 percent in 2016, 5.9 percent in 2017, 3.5 percent in 2018, and 5.2 percent in 2019. However, membership was negatively impacted in 2020 by the COVID-19 pandemic, which resulted in temporary facility closures and social distancing.
Prevalence of obesity
Over 42 percent of American adults and 19 percent of children are considered obese, according to the Center for Disease Control and Prevention. Demand for fitness centers should increase as the population of overweight Americans recognizes the need for a healthier lifestyle and looks for ways to control their weight.
Competing through specialization
To better compete, many centers are offering specialized programs targeting a specific demographic or need. For example, recognizing that over half of health club members are women, women-only centers focus on hydraulic exercise equipment favored by women.
Group exercise popularity
Demand for group exercise is strong, leading fitness centers to offer more classes. Classes with large participation include cardio-kickboxing, yoga, high intensity interval training (HIIT), dance, virtual group exercise, bootcamp-style training, and strength training classes, according to the IHRSA. Virtual on-demand classes in which workouts are led by a video instead of an instructor is also growing and helping to reduce fitness centers' labor costs.
Focus on wellness
Fitness centers that offer healthy lifestyle programs can benefit from increasing interest in wellness. Consumers, particularly aging baby boomers, have recognized that concentrating on physical fitness alone is not enough, and that exercise needs to be part of an overall health and wellness program. By offering integrated programs, fitness centers can leverage the wellness trend.
Kid centers boost participation
Kids who enjoy the activities of the gym's childcare center ask their parents to go to the gym, which improves participation, retention, and membership revenue. Some gym childcare centers also offer classes (like yoga or Zumba) and exer-gaming as well as hosting parties, day camps, and kids'-night-out events.
Virtual workout competition intensifies
The fitness center industry is experiencing increased competition from technology that allows consumers to work out away from the gym. Fitness apps, streaming exercise videos, and video-enabled equipment (Peloton bikes) create personalized workouts that can be performed on the users' schedule without the need to travel to the gym. Video subscriptions are comparable to gym membership prices, and some apps offer free workout programs.
Risks to fitness centers
Membership attrition: High attrition can severely decrease cash flow, and replacing lost members is costly.
Dependence on the economy: Most consumers consider fitness center memberships to be a discretionary purchase.
Competition: Centers compete with facilities offered by corporations, apartments/condominiums, the government, non-profit organizations, and home gyms/virtual workouts.
Capital requirements: Developing or expanding space is costly, and owners typically have to renovate and replace equipment every few years to stay current with the competition.
Seasonality of demand: Most centers experience higher membership growth after the winter holidays and declines during the summer months when people are vacationing and busy.
How bankers can aid a gym's financial fitness
Problem: Efficiently collecting membership dues and fees for classes.

Solutions to consider: ACH services with blocks and filters, merchant services
Problem: Managing cash, given timing of initiation and membership fees and costs of membership promotions.

Solutions to consider: Line of credit, sweep services, online/mobile banking
Problem: Maintaining and growing membership (attrition averages 27-28 percent) through promotions and new service offerings.

Solution to consider: Line of credit
Problem: Efficiently paying full-time and part-time staff (21-23 percent of sales).

Solution to consider: Payroll services
Problem: Funding equipment costs and facility upgrades to expand capacity and stay competitive.

Solutions to consider: Equipment financing, term loans
Vertical IQ does the heavy lifting for you with analysis on hundreds of industries!
All of the industry information in this post came directly from the Vertical IQ Industry Profile on Fitness Centers. Reviewing this profile, or even doing a quick five-minute review of the industry's Prep Sheet, gives you valuable insights into your fitness center banking prospect — their opportunities as well as the issues that may be keeping them up at night. You can use this industry information to build a healthy relationship with your clients in this niche.
>> Ready to get started? Contact us today for more information or a demo!
Image credit: Ivan Samkov via Pexels