How time flies when you're having fun! This is the second in a series of four blog posts commemorating the 10-year anniversary of Vertical IQ. Each post will feature one of our company founders sharing their memories and thoughts on Vertical IQ's early days.

>> Related: Celebrating 10 Years of Vertical IQ: Spotlight on Bill Walker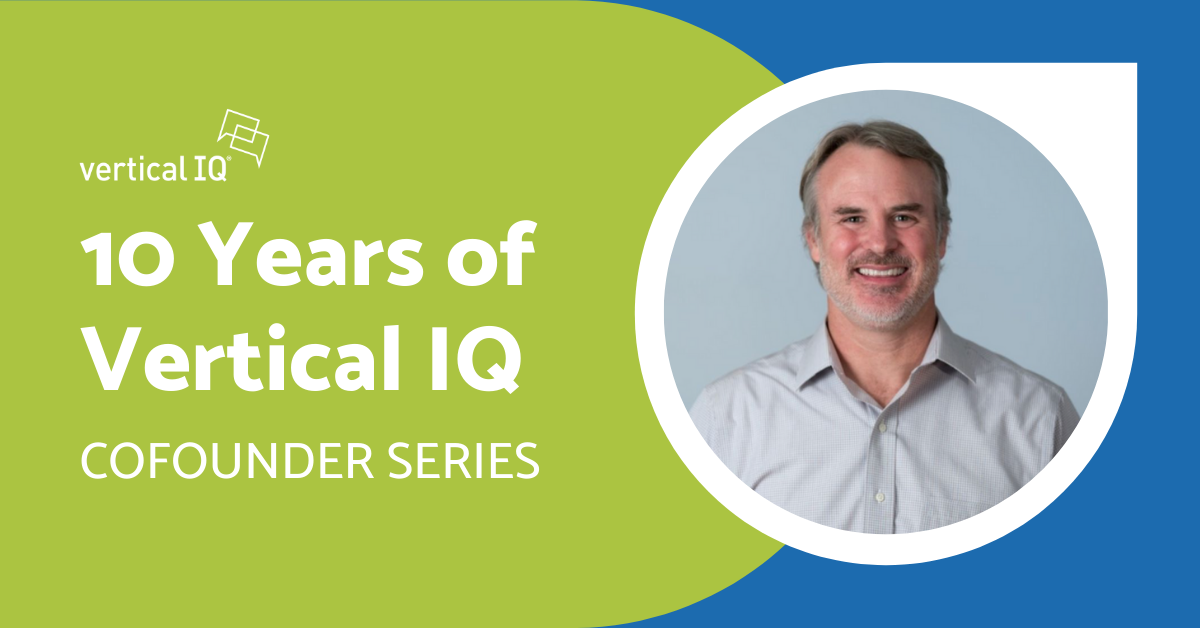 Vertical IQ co-founder and CEO Bobby Martin is a serial entrepreneur and angel investor. A former banker, Bobby authored the book The Hockey Stick Principles about the typical progression of the startup process.
"Researching for my book on entrepreneurship and startups, I learned about a Dutch psychologist named Manfred Kets de Vries who did work on leadership and entrepreneurs. One of the things Kets de Vries found was that most entrepreneurs start companies for one of two reasons.
"The first reason is because they are frustrated by a situation in business or they aren't fitting into the current paradigm, but they aren't the retiring type, so instead of giving up, they start their own company. That's why I started my first industry research company.
"But the other reason Kets de Vries found that entrepreneurs are inspired to create their own startups is because they see a good business opportunity, and that's why I started Vertical IQ — I saw a good opportunity. I realized that my first go at industry research was good, but I believed if I did it again, I could do it better than twice as good."
Putting our heads together
"I started noodling on this idea, and then Nick Miller, a longtime friend and colleague, came to me and said he had some ideas too, which I thought were cool and useful.
"He and I met up at a small coffee shop in North Raleigh — North Hills to be specific. That location was prescient, as it so happens, because it turned out to be only about a quarter mile from our first customer, a large regional bank.
"Nick and I were playing around with concepts, and we enlisted the expertise of Bill Walker to help us start to document some of them. Together, the three of us started formulating the product. What we were trying to do was create an industry research platform that was more useful and uses simple navigation and technology, instead of just throwing a lot of overwhelming content at people."
Developing a recipe for success
"We began flying around the country, meeting with bankers to get their advice about what we should build. It was pretty disparate advice, but still really useful, and it helped solidify the concept that would eventually become Vertical IQ. And I learned some important lessons during those conversations.
"One meeting with the head of business banking for a large bank inadvertently taught me that just because you have a better product doesn't mean you'll make a sale. This banking executive said to me, 'Looks like you have built a better mousetrap' — which we had — but you know what? He didn't care. "He told me, 'We already have something we're using, and we don't want to take the time and effort to do something different and switch.'
"We frequently had to overcome this type of resistance when making those tough initial sales. But we also discovered two key lessons. The first was that we needed to start thinking about the whole product — not just the Industry Intelligence we were providing. Our product was more than just the platform. It was, and is, the whole Vertical IQ experience: the customer service, the personalized training and access, the flexibility and ease of doing business with us — basically, all the ways we work to make our customers more successful.
"The second lesson we learned in those very-early days of the Vertical IQ journey, before we even had our first customer, was that we needed an amazing salesperson dedicated to relationships and with a long-term commitment to our customers' success. We looked no further than Susan Bell, and she became a cofounder and our EVP of Sales.
"Over these many years, Susan has constantly reinforced and challenged me to remember our customers always come first. One of the secrets to Vertical IQ's success is our mutual respect among the cofounders and our employees."
Uncompromising quality
"When we were first going to market, the co-founders and I paid the way with sweat equity and a fair amount of personal cash. We needed hundreds of pages of research, after all, and we needed a platform to surface that content.
"We hired some tech consultants, and I was sharing with them my vision for what I wanted the platform to do and how it would work. One of the programmers said, 'Hey Bobby, let me ask you a question: Why are you telling us how you think it should work? We're the experts; let us surprise you.'
"Well, guess what. They totally messed it up. It was done all wrong, and it cost us a bunch of money and caused a three-month delay. Vertical IQ has to be easy to use, and I didn't think what they built was easy enough. But there was a lesson I took from this costly experience. It started Vertical IQ's commitment to excellence.
"To that end, we created 'Feedback' and 'Support' buttons, which are included on every single page of the Vertical IQ site. If our customers or users need support with Industry Intelligence or have any issue with our platform, they can reach out online, and it goes directly to our industry research team, which takes care of it. We simply don't compromise on quality or customer satisfaction and success."
Continuous improvement
"Our first official employee was Laura Stidham, our Director, Integrated Marketing, who at the time was right out of college. I first met Laura at a Panera Bread, probably 100 yards from where I'd met with Nick. Laura wanted to learn about marketing, and she had the same startup mindset as us cofounders: She was willing to work hard and wear a lot of different hats.
"Once Laura was on board, she, Susan, and I went to a tradeshow, which also happened to be in D.C. We were a startup that no one had heard of, and we were struggling to get anyone to come to our booth. I suggested Laura give her best puppy dog look so people would feel sorry for us! There's no doubt we had to be scrappy to get our first customers!
"We've come a long way in the past decade. We've made countless enhancements to the Vertical IQ product offering, but there are a few things that I'm proud are unchanged: our commitment to support our customers' success and our dedication to our fellow employees. Vertical IQ was built on the premise that Industry Intelligence needed to be accessible, but we also wanted to create a unique business culture that prioritized people over technology. I believe we have achieved both objectives."