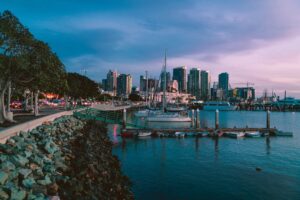 We're excited to be back on the road again!
Next week, we will kick off our fall events schedule with a trip to America's Small Business Development Centers (SBDC) Conference in San Diego. The event will take place September 6-9, 2022 at the Marriott Marquis Hotel, located right in the heart of the city with just a short walk to San Diego's famous Gaslamp Quarter!
America's SBDC Conference is nothing new to us. It has long been a staple for Vertical IQ, and in the words of our co-founder Bobby Martin, it's not really hard to see why.
"We've worked with so many SBDCs over the years. We are involved with a lot of state SBDCs, and counselors all over the country use Vertical IQ to help their clients," said Martin . "It's nice to be a part of the SBDC family because they're good people, and they're trying to help small businesses instead of just helping themselves. That's a very powerful message today."
A valuable resource for SBDCs
Vertical IQ currently provides Industry Intelligence to 29 SBDCs and more than 500 SBDC users. In fact, nearly 50 percent of America's SBDCs regularly use Vertical IQ. They use our industry profiles to quickly prepare for client meetings, create thought-provoking, tailored conversations, understand business challenges within a particular niche, and help build business plans with industry-specific financials. These are only a few of many reasons why we have drawn the interest of so many SBDCs — but the Vertical IQ platform itself has a lot to do with that as well.
"There are several things that help us stand out to SBDCs," said Courtney Farfour, Vertical IQ's VP of Customer Success. "The first is the ability to readily and easily share content with their clients. We also have a user-friendly platform that makes it easy to find the information they're looking for. Finally, and most importantly, everything on the Vertical IQ platform is written and presented in a way that allows SBDC counselors and their clients to understand the content, which is very valuable to SBDCs."
Conference details
We will host Booth #24 at the conference as well as a 75-minute workshop, "Elevate Your Expertise to Help Clients Succeed Within Their Niche," at 3:45 PM PT on Sept. 8 in Pacific Ballroom 14. Attending the SBDC Conference annually, including this year's event in San Diego, provides an exclusive opportunity for the Vertical IQ team to build more relationships and expand our reach to additional SBDCs across the nation. And this is one of the many reasons we keep coming back.
"Nowadays, it's difficult to see our customers in person because they're all across the country, and even international," Martin said. "The nice thing about an event like this is that we can see our customers all in one place. One of Vertical IQ's missions is to knock our customers' socks off, and what better way to do that than in person at a conference?"
The conference itself will kick off on Sept. 5, with registration beginning at 12:00 PM PST and pre-conference workshops taking place from 8:00 AM to 5:00 PM. The event will include several keynote speakers — most notably San Diego Mayor Todd Gloria and former NFL Pro-Bowler Jon Dorenbos (who is now a magician and author, by the way!) — and the overall theme of the event is "Energy Synergy," which will focus on empowering workplaces by energizing teams and inspiring them to work "in synergy" with one another.
It's not too late to register!
Registration for the event is still open, so don't miss this opportunity to check out our booth, sign up for our workshop, and experience everything else the conference has to offer. We hope to see you there!
>>To register for America's SBDC Conference and for more information on workshops and other conference events, click here.
Image credit: Lucas Fonseca via Pexels