What a ride it has been! Our Industry Intelligence Summer Concert Blog Series concludes this week with an Encore! We will play the hits of past weeks for you one final time, and we might even surprise the crowd with a new song to tie everything together, provide one final impression, and leave you looking ahead to Fall and beyond!

>> Related: Industry Intelligence Summer Concert Blog Series: Wisdom from Billy Strings

>> Related: Industry Intelligence Summer Concert Blog Series: Barenaked Ladies and the Key to the Good Life

>> Related: Industry Intelligence Summer Concert Blog Series: Billy Joel Knows It's a Matter of Trust

>> Related: Industry Intelligence Summer Concert Blog Series: OneRepublic's Insights on Sealing More Deals

>> Related: Industry Intelligence Summer Concert Blog Series: Dave Matthews Teaches Us Exactly What to Say

>> Related: Industry Intelligence Summer Concert Blog Series: Just Google It … Right?

>>Related: Industry Intelligence Summer Concert Blog Series: LANY Shows Us a Few New Tricks

>>Related: Industry Intelligence Summer Concert Blog Series: Journey Reminds Us to Be Good to Ourselves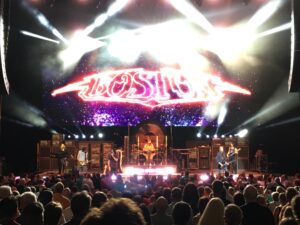 And that's a wrap! …Or is it?
The past eight weeks have been a blast. As a team, we got the opportunity to share our favorite songs by some of our favorite artists, all while educating and informing you on the value of Industry Intelligence. And while those lessons are important – I can talk all day about how valuable Industry Intelligence is for meeting preparation, bridging customer connections, and closing more deals – I still find myself wondering what all of this means holistically.
Sure, we can reminisce on our greatest hits, talk about the past, and keep looking back. A part of me appreciates all of that, but an even bigger part of me is ready for what comes next. So instead of rehashing all the old hits, I've decided to pull a new one for an Encore – one that reminds us to keep looking forward instead of back. And there aren't many songs that fit the bill better than Boston's famous 1978 hit, "Don't Look Back", even if we won't be seeing Boston in concert again anytime soon.
Don't look back, ooh, a new day is breakin'
It's been too long since I felt this way
I don't mind, ooh, where I get taken
The road is callin', today is the day
I finally see the dawn arrivin'
I see beyond the road I'm drivin'
It's been almost three years since I joined Vertical IQ, and it's been one of the best decisions of my career. I've had the opportunity to work across all areas of the organization, and I can't think of a better team to work with as I take on the role of president and we head into the next phase of the company.
We've (hopefully) sold you on the value of Industry Intelligence, but on a more personal note, why Vertical IQ in particular? What separates us from the rest and keeps us from "looking back?" Why is this such a special place to work, grow, and succeed?
Taking "3" Steps Forward
It all starts with what we call the "3 Cs"… Culture, Customers, Company. They are in that order on purpose because we know that if we have a great culture and take care of our employees, they will want to take care of our customers, and that will mean we are able to grow the company.
The Culture: A previous colleague used to use the analogy of people using "palms out" when asked to help, but here at Vertical IQ, every single person is the opposite. They say, "bring it on, and how can I help?"
Our Customers: Everyday we work hard to knock our customers' socks off. We have a passion for delivering a surprising customer experience with an emphasis on innovation and turning great Industry Intelligence into action.
The Company: We've seen tremendous opportunity and growth the past few years as we've expanded into new markets, yet we are still laser-focused on the success of our current customers.
These "3 C's" are what really distinguish Vertical IQ as not only a great company to work for, but also a great company to work with. We put forth the effort into our relationships with both our employees and our customers, and at the end of the day, that's what drives our success as a company – and that's what makes me look forward to "the dawn" of my new leadership role within it.
A Few Final Thoughts
Feel free to read more about Our Story, but this quote continues to stand out for me:
"In keeping with our founders' original intention to build a true life-growth business, we take great care of our people, infusing fun and flexibility into operations. Because our people are happy, they work hard to ensure our customers feel the same. And when our customers are happier, Vertical IQ expands, our team grows, and our solutions remain on the cutting edge."
I recently shared the following quote with the team as well because we will continue to innovate and "see beyond the road we're driving," all while supporting our current and future customers:
>> "Even if you are on the right track, you'll get run over if you just sit there." – Will Rogers
I look forward to working with the entire team to continue to provide actionable, convenient, and focused Industry Intelligence that helps sales, marketing, and customer success professionals build trust, retain customers, and win more deals.
As we like to say…Readiness Wins!
>> Want to learn more about Vertical IQ? Click here for more information and to obtain a free demo.
Image credit: bandboston.com