We're turning up the volume on some of our staff's favorite tunes with Vertical IQ's Industry Intelligence Summer Concert Blog Series! You'll learn about the value of Industry Intelligence as we explore some of today's hot new musical artists, and also pay tribute to some music legends!

Related:
Let us take you on a Journey…
You're walking a high-wire between feeling like you understand your client's industry and needs, and really, actually knowing their industry and needs.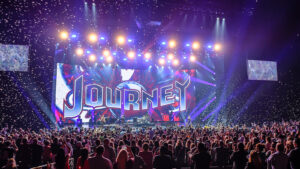 Runnin' out of self-control
Gettin' close to an overload
Up against a no-win situation
Shoulder to shoulder, push and shove
I'm hangin' up my boxin' gloves
I'm ready for a long vacation
As a researcher, I know firsthand how challenging it can be to pull information together on a particular industry. Some industries have tons of information on the web from trusted sources, but wading through all of it can be very time-consuming, sometimes making you feel like you've fallen down a rabbit hole. If only you could see how many browser tabs I have open! Other industries are either very small or not well covered and require a lot of searching, which is also time-consuming.
Oh be good to yourself
When you can't give no more
They want it all but you gotta say no
I'm turnin' off the noise that makes me crazy
Lookin' back with no regrets
To forgive is to forget
I want a little piece of mind to turn to
When I listen to "Be Good to Yourself" by Journey, it reminds me how information overload can make sorting through that industry information a tedious process. I know you're "ready for a long vacation" from searching the web for bits and pieces of industry insight. Your time is valuable, so what if there was a way to cut through the noise that makes you crazy? What if there was a way to make it easier for you to "be good to yourself?"
"Turnin' off the noise"
The good news is this: Industry Intelligence is a great solution for eliminating that noise and providing you in-depth data, analysis, and information all in one place. That way, if you are "gettin' close to an overload," your mind can be at ease knowing that all the data and insight you need is right in front of you, all tied nicely together in an industry profile. And having this information can better inform you on how to serve different customers in a specified manner.
Vertical IQ is the industry intelligence tool in your hands, giving you balance to cross to that stable platform where you can confidently identify opportunities and assess risk in serving clients, even in situations where it might not be best to reveal certain information. "They want it all, but you gotta say no" sometimes. Knowing when to do this and why can help support your decisions.
"A little piece of mind to turn to"
You can turn to Industry Intelligence for comprehensive coverage and solid insights that not only inform but provide you with tools to prepare for calls, ask questions that delve deeper into your client's business and needs, and support you in making those more informed decisions. Vertical IQ's research and news teams scour thousands of sources to identify and consolidate industry trends, risks, and recent developments so you don't have to.
We, along with our data providers, crunch billions of data points to provide you with industry information like financial benchmarking, forecasts, industry structure and demographics, as well as economic indicators and industry drivers. Pulling together all of this information into a well-rounded industry report is satisfying, and – from the perspective of a researcher – so is finding that gem of an article on a recent development to share with our users.
With balanced tools from Vertical IQ, you can look back with no regrets on your closed deals and client relationships, knowing that you know. We will be good to you like nobody else will. So be good to yourself and turn to Vertical IQ – before you're up against a no-win situation.
>> Are you ready to "be good to yourself" and unlock access to valuable industry knowledge? Contact us to learn more about how Industry Intelligence can keep you informed and prepared, and view a list of the industries we cover.
Image credit: Meyer Sound Laboratory