The hits keep on coming with Vertical IQ's Industry Intelligence Summer Concert Blog Series! We're sharing some of our favorite jams while also demystifying Industry Intelligence. So, join us for tips on the value of Industry Intelligence, discover some new musical artists, and reminisce on the classics!

Related: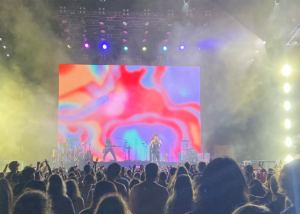 Scene 1: You're in New York City amongst the hustle and bustle when all of a sudden, a Texas-sized cowboy hat appears getting out of a yellow taxi.
Scene 2: You're cruising through Chicago's Grant Park, taking in the city scenes, when you hear the jingling sound of boot spurs.
Scene 3: You're hanging out in Los Angeles' hippest restaurant about to order a drink when you hear a "Howdy!" greeting from the patron beside you.
What do these three scenes have in common? It's someone who stands out from the crowd – a person who did something different – and who catches the eye by bringing something unique to the table.
These scenes came to mind recently when I was at a concert for one of my favorite bands, LANY, and they played one of my favorite songs, "Cowboy in LA."  You can listen to it here
Among the song's lyrics, Paul Klein writes:
All the other boys in town
all look and talk the same,
but I've got a different kind of heart.
I'm a cowboy, a cowboy in LA.
And we can take it slow,
This ain't a rodeo,
I can show you something new.
In these lines, Klein is differentiating himself as uniquely better than "the other boys in town" due to his "cowboy heart." In sales, as in dating, there are few things more important than setting yourself apart from your competition! So, what are you doing to differentiate?
Don't hang up your cowboy hat come closing time
Maybe you have better rates or lower prices. Perhaps you have more locations or a user-friendly mobile app. Or it could be that you and your organization have simply built a solid reputation based on years of working within your community or city. Maybe you're even thinking, "We've got the 'closing business' thing down-pat. We don't need to invest in another deal-making tool."
All of these things are important, no doubt – especially being able to close deals! But in this day and age, you can no longer hang your cowboy hat on your laurels and expect to maintain and grow those relationships after you close. This isn't the first rodeo for today's business owners after all; they are looking for someone who can continuously "show them something new."
And this is where Industry Intelligence can be like your trusty steed, always at your side and ready to help you both harness new business and nurture existing relationships. Industry Intelligence will set you apart from "all the other boys [and gals] in town" by giving you the insights needed to tailor communication to your client's or prospect's industry.
Keep showing them something new
Incorporate industry trends and challenges into your presentation, and offer customized solutions to those issues. Get your conversation started by asking industry-focused questions, and speak their language by using common industry terminology (after all, your competition all "talks the same"!). Print and share a timely industry news article and highlight some interesting points – a great leave-behind or meeting follow-up. Pass along industry benchmark data to show them how they stack up against their competitors.
When you bring this type of Industry Intelligence to the table during each touchpoint with a business owner, you not only add value to that interaction, you cultivate trust and potentially generate additional opportunities. Indeed, each and every time you interact, you can "show them something new" – and that's how you prove to them again and again that you're no one-trick pony! You are truly an indispensable partner (or "pardner" as they say out West!) to them and their business.
>> Are you ready to learn a few new tricks and rope some new business by using Industry Intelligence? Contact us to learn more about the power of Industry Intelligence or view a list of the industries we cover.
Image credit: Drake Branson, Vertical IQ