This fall, our associates recall experiences from the events, conferences, and panels we attend by pulling five thoughts related to business growth, Readiness, and Industry Intelligence. This is the third blog based on our fall lineup of events!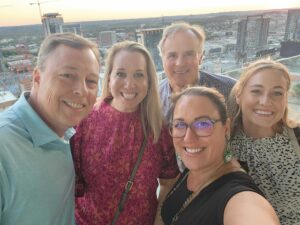 We had a blast at American Banker's Small Biz Banking Conference in Nashville this past week, and what a conference it was – the city was "hot" like the chicken, the atmosphere  was "kickin" like my boots , and  chatting with everyone gathered again in person was music to my ears.
Before I continue on to share my "five thoughts," I'd like to take a moment to give a shout out to all the small business bankers. You were at the epicenter of helping so many small businesses survive during the pandemic, and in some cases, you were the binding force that kept them from going under completely. Many small business leaders referred to these bankers as "heroes" for their tireless work over the last 24 months, so thank you for all you did to help small businesses and support the lifeblood of the U.S. economy!
Indeed, the pandemic itself was a central topic of the Small Biz Banking Conference, as many of the sessions and speakers focused on what they have done to survive – and, in some cases, even thrive – during one of the most economically trying times in our nation's history. So what have small business bankers been doing to stay afloat and help small business owners? How have they learned to innovate and differentiate – and help their clients do the same?
1. Understanding the needs of small business bankers
The current state of the economy – coupled with record-setting rates of inflation – has many small business bankers wary. Some of their concerns include:
Client acquisition and profitable accounts
Client engagement
Competition and technology from other banks, fintechs, and tech companies
What can banks and bankers do to ensure their continued success in troubled times?
Bankers need mentors, so leveraging senior bankers as mentors to introduce complex credit deals and help with succession planning could help ease less-experienced bankers' concerns. They also need credit training in order to improve confidence and increase the size of their deals, ultimately spelling more success and higher closing rates for them and their bank. Vertical IQ's Credit Underwriting sections under each Industry Profile on the platform can help bankers better understand their clients' and prospects' industries – so providing bankers with a tool like Vertical IQ can help leverage their industry knowledge and give them confidence when consulting small business clients.
2. "Small business is big business"
Derek Ellington, EVP and Head of Small Business Banking for Wells Fargo, dropped a valuable nugget at the conference: "Small business is big business." It's no secret that small business is critical to the health of our economy, so it is important for small business bankers to anticipate their clients' needs and goals.
The expectations of the customer for their bank have changed dramatically, making it even more critical for bankers to stay focused on customer service – how they can be helpful, how they can "bring the bank to the client," how they can create ease of access to their services – and how they can ultimately provide their clients with a better experience. Small business bankers should turn simple checking or lending relationships into something more by adding value with other services, and this is also something Industry Intelligence can help with.
Having deeper industry insights can help bankers understand their client's business, provide a better experience, add more value, and become the trusted advisor those small businesses can rely on. It is a banker's job to make small business a priority – "big business," if you will – in order to be successful. As EVP and Chief Digital Officer of U.S. Bank Irv Henderson said, "The future banker is truly a consultant."
3. Reimagining the client experience in a digital age
What's changed in terms of the client experience? That's a tough question because the scope of client experience is very broad; however, the biggest change seems to be small business owners prioritizing ways to spend less time working and more time at home. As a result, they increasingly demand services that are more convenient, simpler, and easier, and ones that strike a balance between human interaction and digital processes. So how can small business bankers play their part in "getting business owners home to their families" faster?
According to Barlow Research, over half of all bank touches occur through digital channels. A conference session entitled "Providing Guidance, Coaching, and Expertise to SMB" touched on this issue. Needs discovery was and still is foundational to banking, so it's important to understand how to do this digitally. This involves implementing digital solutions with consultative bankers to advise on cash flow, transitioning to what businesses want from banks (working capital), and reimagining how the use of data can improve the client experience.
4. Engagement drives retention
I mentioned how half of all bank touches are now digital, so how can bankers capitalize on this? Engagement – as suggested by the "Innovation and Partnerships: Engagement & Retention – Delighting SMBs at Scale" session – is the "next big thing" in banking. Data is the thing of today, but getting clients to actually engage with that data and in-depth industry insights is what will help drive interest in your bank's services and client retention.
The good news is that there are resources – such as Vertical IQ – that afford the opportunity for bankers to "show" their clients the data they need to help drive the success of their businesses. The Vertical IQ platform gives bankers access to downloadable PDFs, industry forecasts, and financial benchmark data they can share and use in their engagements with clients. When business owners can quite literally "see" the data – and engage with a banker who knows their industry – they are more likely to see the value in doing business with your bank for the long-term!
5. Doubling down on specialization
I've discussed how the client experience is paramount, and I don't think there's ever enough to say about that! Improving user experiences helps drive Net Promoter Scores and is a big piece of the puzzle. But sometimes, a deeper dive into particular industries and businesses is critical for differentiating your bank and creating differentiation from the rest of the pack.
For example, it is becoming increasingly valuable for banks to work with minority- and women-owned businesses. It is estimated that 38 percent of all businesses are diverse, and Vertical IQ's sort and target capabilities can help bankers identify which industries tend to be minority- or women-owned, making it easier for banks to better target, consult, and support these businesses. Through these capabilities, bankers can develop a deeper, more comprehensive understanding of their clients' goals and needs, which builds stronger foundational relationships.
The key to success is innovation, and innovation occurs when bankers find ways to make it easier for small businesses in different industries to develop a relationship with their bank. Vertical IQ's Industry Intelligence can do just that – and keep your small business banking clients coming back!
>> Vertical IQ's Industry Intelligence is a great specialization tool for small business bankers! Click here to contact us and to request a demo.
Image credit: Nicolle Bouffard DeLiso, Vertical IQ