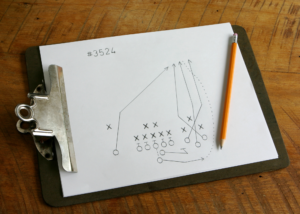 I'm a big college football fan, especially right now since my NC State Wolfpack is 4-0 and ranked tenth nationally. However, with the current playoff system where only four teams make it, every game is critical. An unexpected injury or two — even a missed field goal — could derail the season, or it could even come down to certain team members not performing to expectations.
At the end of the day, it is about expectations — and the expectation for every competing team is to win. As the leader of the team, it's the head coach's job to face adversity with composure and resilience, all while maintaining a steady hand and staying focused on the end goal of reaching, and winning, the National Championship.
For two-plus years now, businesses large and small have endured many issues created by a global pandemic, accompanied by supply chain problems and record inflation. Much like a coach preparing their nervous team for a must-win game, CEOs and other business leaders have been expected to provide a sense of calm to anxious board members, investors, employees, and customers.
For more experienced leaders, this isn't the first storm they've had to weather, as many economic woes are somewhat cyclical. But for newer execs, maintaining their cool headedness amid these unique business and economic pressures may not be easy as margins get tighter and sales cycles get stretched. So how can CEOs and other business leaders equip their teams to "win" in times of adversity?
Playing offense, defense…or both
I read an intriguing article recently, written by partners at consulting firm McKinsey, about how various CEOs and business leaders have dealt with recent headwinds. In the article, the authors identify two basic leader personas that emerge during challenging times such as these.
The first and most common type of executive is the wary leader who takes a more cautious approach during fraught times. "These leaders are hunkering down and concentrating on the threats here and now," the article explains. "Scenario planning, resilience preparation, balance sheet management, near-term efficiency drives, and careful inflation monitoring are core areas of their focus." The article describes this brand of CEO or other executive as one who takes a "wait and watch" approach — carefully surveying the landscape before making any strategic moves.
But the other type of leader during times of turbulence is the one who manages to seize the opportunities so often created by such situations, while also diligently managing risk — "leaning into the volatility," as the article's authors call it. They describe this type of CEO as "invigorated" by the current disruption. "These leaders are playing both offense and defense," they observe.
The successful leader is ambidextrous and informed
In few scenarios — sports, business, or life — is it wise to play only offense or defense. Instead, a two-front strategy is most likely to be the winning approach. As the McKinsey article observes, the highly cautious CEO often will miss out on opportunities during times of upheaval; the overly aggressive leader who relies purely on playing offense may have some successes, but there also is more room for financially devastating errors.
The article notes that during challenging economic periods, the most successful CEOs are "ambidextrous: prudent about managing the downside while aggressively pursuing the upside. These leaders are thinking about the next decade, not the next month."
Whether that means reassessing processes, organizational structure, resource allocation, or strategic M&A options, these folks are playing both the short and long game. And to better inform those strategies and tactics, tapping into Industry Intelligence can be clutch.
Boosting productivity, efficiency, and time to value
Even the adaptable CEO who is well-suited to the challenges of today's business and economic environment cannot operate without a gameplan. They and their team need to understand the nuanced undercurrents that are at play in their own business, as well as with their buyers' and suppliers' businesses. They need the latest, unbiased insights to guide informed decisions that can help their company succeed despite today's slowing demand and lengthier purchasing cycles.
To confront these challenges, astute CEOs must hone their companies' productivity and efficiency. They have to consider things like time to value and identify the ideal blend of both growth and cost-savings opportunities.
Here are a few of the ways savvy leaders can take advantage of Industry Intelligence to strike this delicate balance.
Valuations and benchmarks: Many companies have lower valuations as a result of recent economic pressures. By using Industry Intelligence to review benchmarking and valuation data, a foresighted CEO could take advantage of a lower-priced deal on a merger with a competitor or the acquisition of a key supplier, enabling their company to increase productivity.
Industry trends: Getting a handle on current industry trends impacting suppliers'  operations, raw materials, and supply chains can help business leaders potentially bolster productivity and efficiency by building supply chain resilience via dual-sourcing, shifting production, or even bringing certain parts production in-house.
Local economy data: Understanding the overall business landscape and the markets in which a business operates and sells — topics like local real estate values, cost of living, and employment rates — can inform a CEO's decisions around geography-based growth/contraction.
Time savings: Industry Intelligence is a huge time-saver for employees in sales, marketing, accounting, risk management, consulting, and client advisory (to name a few), decreasing Industry Intelligence's time to value proposition while also increasing efficiency and productivity.
Adding value to clients: Perhaps more importantly, Industry Intelligence allows your team members to quickly become invaluable assets to your clients and prospects. By learning about a client's industry — their operations, the latest trends, and potential risks to watch out for — and sharing that insight to offer solutions tailored to the client's unique needs, that person becomes not just another vendor or supplier but rather a key part of that business's extended team. And as a result, your company's stock also goes up in that client's eyes, setting you apart from the competition.
The Industry Intelligence edge
As the McKinsey article notes, "when volatility is high, an insight's edge generates great value. It may not be possible to be right every time, but seeing accurately through the fog 10 percent more often than your rivals is a substantial competitive advantage."
No one knows just how long this turbulent period of high inflation, supply chain issues, and lengthier sales cycles will last. But the savvy CEO can increase their company's odds of not just surviving, but actually thriving, by tapping into Industry Intelligence. They and their team can gain that all-important "insights edge," saving time to value, while also increasing productivity and efficiency.
As we like to say, "Readiness Wins" — and Industry Intelligence can help businesses win more, lose less, and gear up for short- and long-term success. This week, I'm just hoping my Wolfpack will be ready to take on Clemson and keep their playoff hopes alive. Go Pack!
>> Ready to start using Industry Intelligence to chart your company's course to success? Vertical IQ covers more than 550 distinct industries, 3,400 local economies, and more than 97 percent of the U.S. economy and Canada. Click here to contact us and to request a demo!
Image credit: Canva