This fall, our associates recall experiences from the events, conferences, and panels we attend by pulling five thoughts related to Readiness, business growth, and Industry Intelligence. This is the second blog based on our fall lineup of events!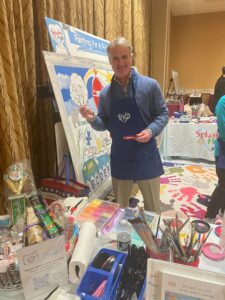 My fellow Vertical IQ Co-founder, Susan Bell, and I had a wonderful experience attending the New York Bankers Association (NYBA) Combined Retail & Small Business + Trust & Investment Conference last week at The Sagamore Resort in Bolton Landing, New York. Not only did the conference include an agenda of engaging speakers, we also enjoyed spending time with colleagues and friends, old and new, in this beautiful setting. We even got to paint for a good cause in Splashes of Hope, which was definitely a great time and tested my art skills (or lack therefore)!
But everything else aside, I gained valuable insight, especially from my vantage point as an entrepreneur and former banker. What are some measures I can take to ensure the continued success of my own company? What are other companies – in this case, banks – doing to differentiate? What can I do to help maintain Vertical IQ's wonderful workplace culture, and what can banks do to maintain theirs? Here are my top five takeaways from the conference…
1. High-energy means high output
The energy from the conference itself was high; many of the attendees have known each other for years, so the interaction was positive and upbeat, and each attendee was down to earth with their hearts in the right place. It really made everyone, myself included, feel like family.
Workplace culture should be no different. Keeping your workforce looking forward and thinking positively, and setting your company – and each employee in it — up for success is deeply important. If you're in a leadership role, you can say all the right things, do the right things, and steer everyone in the right direction, but if your heart "isn't in the right place," it shows. So, keep your words and actions genuine, and show every employee that you care about them like you've known them for years. It will go a long way in making your company happier, healthier, and more successful!
2. Helpful, insightful sessions
My favorite session from the conference featured Kenneth J. Entenmann, Chief Investment Officer & Chief Economist of NBT Wealth Management. The session, entitled "Challenging Times: Recession, Inflation, and the Impact on Financial Markets," provided valuable, practical examples and useful insight in terms of how banks should look at interest rates and inflation. He explained that because there are many worrisome trends in the current economy, CEOs and banks need to ensure that they're staying on top of financial markets in relation to current events.
The "A View from the C-Suite" CEO panel also provided some good insight on the role leadership plays in helping small businesses with all of their financial needs as opposed to focusing solely on the banking aspect. It is vital to focus on the holistic financial experience if these businesses – and your bank — are to see success!
3. Banks differentiate themselves by building a team atmosphere
I had the opportunity to connect with so many people, some Vertical IQ customers and some not. My main takeaway from these conversations was differentiation: How are banks differentiating themselves from the competition? What helps them stand out from the rest of the pack?
The answer was quite simple: When you build a team atmosphere, good things happen. We discussed this a bit earlier, but happier employees tend to be more energized and therefore produce a better output. When team members feel they are contributing to a goal, to a benchmark, and to the team's success in general, the differentiation tends to occur organically. It also helps to provide your employees with access to tools – such as Industry Intelligence – that will give them the confidence and expertise to become trusted advisors. The confidence instilled in every employee through this process will bleed into their interactions with clients, which in turn will differentiate your bank as a whole. And this is true of any company in general – including my own!
4. Embrace "readiness" and pre-call preparation
Another thing I learned from conversing with attendees, and Vertical IQ customers in particular, is that they embrace pre-call preparation, building trusted advisor status, and providing valuable business insight to clients and prospects. It is cool to see the reach and influence Vertical IQ has with our customers and their companies, and it is always awesome to hear their positive feedback and success stories. As mentioned before, having Industry Intelligence from Vertical IQ at their disposal contributes significantly to their industry expertise and helps them gain that trusted advisor status to build strong, lasting relationships with their clients.
Even non-Vertical IQ customers were speaking in a similar vein about pre-call preparation. Bankers value the opportunity to understand clients' industries on a deeper level and connect with them. Building that rapport is instrumental to both establishing relationships with prospects and maintaining relationships with existing clients, and Industry Intelligence can help build it. We say "Readiness Wins" here at Vertical IQ — and based on my conversations with everyone at the conference, they believe that as well!
5. On a personal note…
Location, location, location! The location of the conference — in Bolton Landing, New York — was absolutely beautiful. There was perfect fall weather, the venue (The Sagamore Resort) is located in the Adirondack Mountains on Lake George, and the Sagamore itself was lovely. Fall came early — including an outdoor New England Clambake with yummy food, music, fire pits, and great conversation. Temperatures were in the 50s, and we needed sweaters and jackets. The leaves were changing a little. I also enjoyed a few jogs on Lake George as well as the NYBA golf tournament, and enjoyed (as always) having coffee in Saratoga Springs with marketing editor Rachel Spensieri. Oh, did I mention my team WON the golf tourney? My prize: T-shirts for my kids.
All in all, the location made for a great conference, and I'm glad Susan and I had the opportunity to experience all it had to offer!
>> Want to learn more about how Vertical IQ's Industry Intelligence can help your bank differentiate? Click here to contact us and to request a demo!
Image credit: Bobby Martin and Susan Bell, Vertical IQ