This fall, our associates recall experiences from the events, conferences, and panels we attend by pulling five thoughts related to business growth, Readiness, and Industry Intelligence. This is the seventh blog based on our fall lineup of events!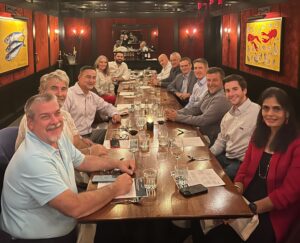 The Financial Brand hosted its annual forum in Las Vegas last week, and there was an abundance of famous speakers there, from Earvin "Magic" Johnson to Jay Baer.
It was a great conference. I got to enjoy a dinner with some of our partners and customers (pictured to the right), and I took a lot of valuable insights back to Raleigh with me. A large focus of the forum (in addition to "financial branding," of course) was on the customer – making sure your branding lines up with the goals, wants, and needs of your market. What steps can bankers and other sales professionals take to establish an effective brand? How important is it to foster a positive relationship with your customers to maintain a successful brand?
Focus your energy on customers
Perhaps the most inspirational session from the forum was the keynote from none other than Magic Johnson, who also happens to be a former U.S. Olympic teammate of mine at the 1992 Barcelona Games (I may not have been a part of the "Dream Team," but I was a U.S. Water Polo Olympian). He said that your brand should reflect what your customers want, and it is up to you to represent them in your branding – and all of that starts with listening.
Johnson – now a business mogul and CEO of Magic Johnson Enterprises – is a majority shareholder for Guggenheim Baseball Management, the Los Angeles Dodgers' sports ownership group. A few years ago, fans complained that the price of parking for games was way too high, especially when taking into consideration the price of game tickets. In response, Johnson took the initiative to lower the price of parking, which helped launch the Dodgers to the top attendance numbers in the league, and in turn drove even more revenue because of increased spending at games.
By listening to fan feedback, Johnson and his colleagues helped create a more enjoyable fan experience, which has become a focal point for the Dodgers' brand – and increased revenue along with it.
Continuously reassess what your market wants
Another point of emphasis from Johnson's session touched on "doing your homework." This wasn't just about listening to your "fans" (or customers), it was also about continuously reassessing what your customers – and what your market – want from your brand.
A large part of Johnson's business model and mission is meeting the demands of multicultural communities. He mentioned opening Starbucks locations in challenged urban neighborhoods, as well as spending for women- and minority-owned businesses. Customers value the time you take to analyze and assess what they want, and what they will need, in their communities. He suggested doing a SWOT (Strengths, Weaknesses, Opportunities, and Threats) analysis twice per year to keep pushing to be better, keep going up, and turn weaknesses into strengths and opportunities.
As we like to say here at Vertical IQ, "Readiness Wins" – and doing your homework helps you become "ready."
>> See how Vertical IQ's Sort and Target capabilities can help identify women and minority-owned businesses
"Hug your haters"
One of my favorite sessions from the forum was Jay Baer, New York Times best-selling author and hall of fame speaker. Baer stressed the importance of "hugging your haters" – in other words, making sure you see the value in your unhappiest customers.
Complaints help you understand where things may have gone wrong and identify areas to learn and improve, and sometimes even make a fan of someone who may have been unhappy initially. Baer suggested to:
First and foremost, answer them! No response is a response, and it implies you don't care. And – keep in mind – a non-response decreases net promoter score (NPS) by half!
Answer every customer in every channel.
Answer each individual customer without "channel-shifting" (e.g., respond in Twitter with a tweet instead of responding with an 800- number to call).
Answer promptly. Speed expectations NEVER go backwards. Speed is interpreted as caring.
Answer with empathy first, then with information.
The SHARK points
Shark Tank star and celebrity business investor Daymond John held a keynote session at the forum, and in it, he discussed his SHARK points, which he uses to establish and launch successful brands:
S – Set a goal
Make sure that the goal of your brand is clear. What are you trying to accomplish? For example, Vertical IQ's goal is to "deliver specific, timely, and focused Industry Intelligence" to our customers. Make it clear what you are trying to accomplish and who you are doing it for (your customers).
H – Homework
We mentioned this earlier, but do your homework! Understand the customers within the market you are trying to reach, and be sure to understand the market as well.
A – Amor
LOVE! Love what you are doing.  For example, at Vertical IQ, we love providing thoughtful/insightful Industry Intelligence to help our customers better serve their clients and prospects.
R – Remember that you are the brand
Don't lose sight of the fact that you are a constant representation of your brand. Promote your brand on social networks. Don't lose sight of the message. Make sure you remain a consistent presence in trying to bring your brand to life.
K – Keep swimming
Never "stop" looking for new ways to innovate and elevate your brand. Keep putting the work in to make sure it stays consistent, and always look for opportunities to grow and expand on your original messaging. 
"Backing up" doesn't mean "backing down"
Allison Levine, author and adventurer who captained the first American women's Everest expedition, shared a powerful message about "backing up" but not "backing down." She told the story of her trials on Everest, explaining that she didn't make it to the summit the first time she tried. Despite her setback, she kept persevering, and she ended up going back and completing the climb the second time around.
Her shortcoming the first time didn't deter her from reaching her goal. Sure, she worked very hard all to fall a bit short the first time, but she saw this shortcoming as a "setback" rather than as a "failure." This sentiment is a key component to success in the banking world because you don't have to let your setbacks become your failures. You can choose to let them become learning opportunities, and if you look at each situation through that lens, it creates a great foundation for long-term success and profitability.
In conclusion
Strong customer relationships are forged through effort, and nothing speaks louder than listening to your customers and adapting your brand to fit their wants and needs. Show them you care. Do your homework. Put in the time to assess your market and continuously adapt to changing conditions and demographics.
Having preparation tools like our role-based Prep Sheets – which can essentially fill in as "the homework" – help ready your interactions with customers and assist you in building a customer-approved financial brand. Our Prep Sheets leverage our hallmark Industry Intelligence to provide you with Readiness tools such as key industry insights, a look at a market's working capital, and a list of questions you should be asking to your prospects and customers in a particular industry.
At the end of the day, it is ultimately up to you to continue fostering and nurturing positive customer relationships – and Vertical IQ's industry profiles help you be "ready," save time, and win more business.
>> Learn more about how Industry Intelligence can help you bolster your brand and improve your client relationships
Image credit: Brin Sullivan and Paul Hock, Vertical IQ