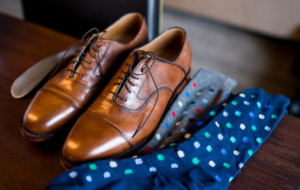 It seems like there is a day to celebrate nearly EVERYthing … from National Science Fiction Day on January 2 to National Bacon Day on December 30. (You can check out what "Day" it is today here.) But for all you sock enthusiasts out there, this is your time of year to shine with the celebration of Odd Socks Day on the first day of the third week in November (yesterday, November 21 for 2022) and National Sock Day on December 4 each year.
Here at Vertical IQ, we like to think we know a few things about socks — and more specifically, how to knock our customers' socks off! We love to hear about the ways using our Industry Intelligence has made their jobs easier, saved them time, enabled them to achieve "trusted advisor" status with an existing customer or client, or helped them win a new deal.
But what's even more important: Whether you are a banker, accountant, sales pro, financial advisor, or business consultant, you will find valuable Industry Intelligence that can help you knock YOUR customers' socks off. Check out a few recent successes our customers have achieved in part through their use of Vertical IQ.
Bankers using Industry Intelligence to raise the "woof" 
Industry Intelligence can be a tremendous timesaver for business bankers, as well as a simple way to focus customer conversations and distinguish themselves from the competition. A banker with a community bank recently used Vertical IQ for all of this and more, helping a local veterinarian refinance a $650,000 real estate loan.
Prior to her meeting with the vet practice's owner, the banker reviewed Vertical IQ's Industry Trends and Quarterly Insights and gathered some important questions she may not have thought about otherwise. Simply by asking about the increase of pet poisonings during COVID, this community banker was able to engage her veterinary prospect with a unique conversation.
Other bankers were "sniffing" around this same prospective deal, and according to the practice owner, the other financial institutions offered similar loan terms. But it was this particular banker's industry knowledge and effort taken to dig into the veterinary niche's specific needs — "something other bankers were not offering" — that helped seal the $650,000 loan deal!
>> Learn how banks can get the most value from adding Vertical IQ into their processes.
SBDC advisors blissfully committed to Industry Intelligence 
Small business development centers (SBDCs) are a network of organizations that provide free or low-cost advice and training to people who want to start or grow a small business. In just one afternoon, SBDC counselors can go from helping a tech startup that needs to develop a business plan to meeting with a dog groomer who wants to open a second location. It's no wonder that an SBDC market research specialist recently said that "Vertical IQ is one of the most valuable tools at the SBDC's disposal."
Not long ago, a client came to one of our SBDC customers with an interest in starting their own wedding venue. The market research specialist quickly realized that his client had a lot of entrepreneurial enthusiasm … but had little knowledge of the wedding venue industry. It was time to tap into Vertical IQ's Industry Intelligence!
This savvy SBDC advisor saw an opportunity to help his client put a market report together and assist with a business plan using insights found on Vertical IQ. The Industry Intelligence the SBDC advisor helped gather gave his client the confidence to purchase the $1 million piece of real estate necessary to establish his wedding venue business.
>> Learn more about how SBDCs can benefit from using Vertical IQ.
Business consultants know the value of Industry Intelligence
When providing accounting, financial advisory, or other professional consulting services to businesses and business owners, it's important to have an understanding of the industry in which that client operates. Such insights can impact the guidance you might offer on topics ranging from tax liability to retirement savings to succession planning. And Vertical IQ's Industry Intelligence puts these insights at your fingertips.
Having provided valuation services to businesses for more than 20 years, one accountant turns to Vertical IQ both to help his clients thrive and also to grow his own book of business. His clientele runs the gamut from manufacturing to high-tech startups, so having an Industry Intelligence tool that covers all different niches has proven more than just handy — it's invaluable.
He explains that Vertical IQ provides him "more rounded knowledge about the client and their business history." He also notes that Vertical IQ covers multiple industries for which he creates business valuation reports. "When I have a customer needing their business valuated, I will go into Vertical IQ to find some key business questions and answers to bring to the table," he continues. "Customers appreciate it when we use their keywords and terminology, which helps me feel confident in what I'm saying."
>> Learn how the math adds up for accountants and other consultants to use Vertical IQ.
Get the perfect fit with Industry Intelligence
When it comes to footwear, comfort is crucial, and few things are as subtly yet constantly irritating as wearing a pair of socks that are either too big — scrunching up in your shoe — or too small — squeezing your piggies like a boa constrictor! And just like socks, providing guidance to business customers and prospects isn't one-size-fits-all either.
Industry Intelligence gives you the insights you need to offer tailored advice, custom-fit to a business's unique needs. No matter whether your client opts for crew socks, wacky socks, no-show socks, or traditional black dress socks, you can use the industry insights found on Vertical IQ to knock them off!
>> Ready to dip your toe into Vertical IQ's actionable, convenient, focused Industry Intelligence? Contact us today to schedule a demo!
Image credit: Power Studios