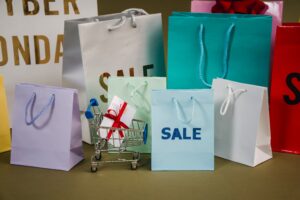 The U.S. retail sector is enjoying a prosperous holiday season. The National Retail Federation (NRF) conducts surveys throughout the year to gauge consumer sentiment and shopping trends, and the numbers are in for some of the biggest shopping days of the year.
During the five-day holiday shopping period between Thanksgiving Day and Cyber Monday, a record 196.7 million Americans shopped in stores and/or online. That's 17 million more than during that same time period in 2021, and it is also the highest figure since 2017 when the NRF began tracking this data.

Interestingly, this year's survey found that a whopping 76 percent of consumers say they shopped over the busy Thanksgiving holiday weekend, which is up 6 percent from 2021's numbers. That figure also far surpassed NRF's forecasts for the long weekend by more than 30 million.

A few additional statistics from NRF's 2022 holiday shopping survey:
More in-store shoppers: Over 122.7 million Americans went to brick-and-mortar stores over the Thanksgiving holiday weekend — up 17 percent from 2021.
More online shoppers, too: The survey found that 130.2 million people shopped online over the holiday weekend, which marks a 2 percent increase from 2021.
Black Friday still draws in-person crowds: 72.9 million shoppers hit the stores to shop in-person on Black Friday, up from 66.5 million last year.
Many flock to Small Business Saturday: The Saturday of the Thanksgiving holiday weekend marks "Small Business Saturday," and 77 percent of the 63.4 million in-store shoppers that day say that's the reason they came to shop. Small Business Saturday shoppers increased from 51 million from 2021.
Cyber Monday actually isn't the top online day: 77 million people shopped online on Cyber Monday (approximately equal to last year's number) with a record 59 percent of those shoppers using a mobile device for their shopping (versus 52 percent in 2021). However, 87.2 million Americans shopped online on Black Friday this year — over 10 million more than on Cyber Monday.
During the long holiday weekend, shoppers spent an average of $325.44 on holiday-related purchases, up from $301.27 in 2021. Inflation may account for some or all of this uptick: However, it's worth noting that 90 percent of the weekend's shoppers felt this year's deals were the same or better than last year's.
>> According to the NRF survey, the top gifts purchased over the 2022 Thanksgiving holiday weekend were:
Clothing and accessories (50 percent)
Toys (31 percent)
Gift cards (27 percent)
Books/video games/other media (24 percent)
Food and candy (23 percent)
Electronics (23 percent)
Do you have retailers in your book of business?
If you are looking to secure a new industry in your portfolio, or if you already work with retail businesses, here are some key points found in the Sector Profile for the U.S. retail sector:
The retail sector is comprised of 647,400 firms that employ 14.8 million workers and generate $5.4 trillion in annual revenue.
The retail sector represents 5.2 percent of the nation's Gross Domestic Product (GDP) and employs 10.4 percent of the country's workers.
The sector is concentrated at the top with the 20 largest retail firms representing 30 percent of revenue, but it is fragmented at the bottom.
Profit drivers within the retail space

Growing customer traffic
While online sales have grown in importance, particularly during the pandemic, retailers still rely on building and maintaining high customer traffic in stores to achieve their sales and profit goals. In-store customers provide upselling and cross-selling opportunities and drive higher impulse purchases. Stores invest in creating an attractive shopping environment and hold special events and sales to attract visitors. They also offer customer loyalty programs with rewards that encourage repeat purchases and visits. Local marketing and promotional programs help build awareness and attract new customers.

Increasing average transaction size
Besides increasing the number of customer transactions through higher traffic, retailers can grow revenue by growing the average sale size. Sales staff is typically trained to offer "upsell" opportunities by showing more expensive items or complementary items to customers. Stores can encourage multiple item sales by displaying merchandise in sets, bundling multiple products together at a discounted price, or offering discounts for multiple purchases of the same product.

Effectively managing inventory
Retailers may carry expensive or perishable inventory and must balance providing a broad selection for customers with tying up too much cash. Inventory management is made more difficult by seasonal swings in demand driven by gift-giving holidays. Stores must build up inventory prior to peak selling periods and accurately forecast overall demand as well as ascertain which items will be "hot sellers." Inventory management software integrated with their point-of-sale system can help them accurately track inventory of each item and analyze sales trends. Firms also must establish and enforce security procedures for inventory to protect against theft by customers or employees.

Challenges within the retail sector

Dependence on economic conditions: Demand for most goods is sensitive to the overall health of the economy and consumer spending. During recessionary periods, sales for nonessential goods generally slow or drop. Weak demand typically results in additional markdowns and promotions, further eroding profitability.
Competition from online retailers: The coronavirus pandemic shut down brick-and-mortar stores and accelerated the adoption of online shopping by consumers. Without brick-and-mortar stores, direct marketers and web-only retailers operate with lower overhead.
Battling against inventory obsolescence: The retail sector is in a constant state of change, driven by trends, fads, seasonality, and perishability. Stores must successfully anticipate and respond to changing consumer preferences.
Changes in government regulations: Payroll costs are often a retailer's largest operating cost. Consequently, government-mandated increases in the minimum wage or other benefits, increased costs of healthcare due to healthcare reform, or other government regulations affecting the labor force could result in a significant increase in operating costs.
High staff turnover: Low pay, part-time employment, and irregular hours often lead to high staff turnover.
Dependence on imports: Retailers may source a majority of inventory from foreign countries, which can create long lead times. Imported merchandise also is subject to customs and trade regulations, and political instability and labor disputes can affect supply and scheduling.
Want this kind of in-depth analysis on more than 550 other industries and sectors?
Much of the industry information in this post came directly from the Vertical IQ Sector Profile on the U.S. retail sector. Reviewing this profile – or even doing a quick five-minute review of the sector's Dashboard and Big Picture Video – gives you valuable insights into your retail banking prospects, their opportunities, and the issues that may be keeping them up at night.
>> Ready to get started? Contact us today for more information or a demo!
Image credit: Sora Shimazaki via Pexels