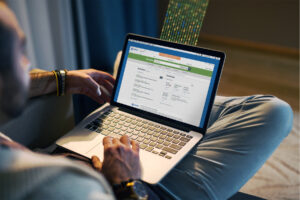 The end of the year is prime time for countdowns and retrospectives. You've seen them, and admit it: You've even clicked on them. The year's 10 best movies, top 10 Spotify songs for 2022, the 10 dog memes that raised the woof this year — they're the type of online "listicles" we just can't resist!
At Vertical IQ, we wanted to get in on the year-end countdown action, so we took a look at which of our Industry Profiles drew the most attention from our users.
While we can't quantifiably determine why these particular profiles were of the most interest this year, it is curious to consider what circumstances might have led to their popularity. Did these industries become particularly attractive to professional services providers for some reason? Were these industries especially hard-hit by economic factors and in need of rebalancing within organizations' books of business? Or are there just a lot of businesses operating within these particular niches and thus a lot of people calling on them?
So, without further ado, here are the top 10 Vertical IQ Industry Profiles for 2022, based on number of visitors.
10. Auto repair shops
The 82,500 automobile repair shops in the U.S. fix cars with mechanical problems or restore a vehicle after a collision. The automobile repair industry is highly fragmented. Most out-of-warranty vehicles are repaired at independent shops. A vast majority of independent service shops are family-owned.
Competition from Dealers
Faced with declining new car sales, car dealerships are increasing their efforts to service and repair vehicles of all types.
Declining Collision Sector
Once a highly profitable segment, the collision and body repair sector is in what some industry experts have termed "irrevocable decline."
9. Management consulting services
The 75,900 management consulting firms in the U.S. assist businesses and organizations with administrative, strategic, and management-related issues. Major revenue categories include strategic and financial management consulting and implementation services. Firms also may offer operations and supply chain, marketing, and human resources management consulting services. Customers include businesses, institutions, non-profit organizations, and government entities.
Dependence on Highly Skilled Labor
Management consulting firms solve complex business problems and rely on highly skilled, educated, and experienced industry professionals to provide consulting services.
Competitive Bidding
Many clients use competitive bidding when soliciting management consulting services, and preparing bids is a costly process for consulting firms. It requires significant amounts of managerial time and effort.
8. Residential brokers and property managers
The 137,200 residential real estate and property management firms in the U.S. work with owners to find buyers for property sales, lessees for property rentals, and maintain and manage rental property. Over 60 percent of industry revenue comes from the sale of residential property, and the remainder comes from property management services.
Fewer Qualified Buyers
Mortgage lenders adopted stricter lending practices in the wake of the 2008 financial crisis, making it more difficult, especially for first-time homebuyers, to qualify for new loans.
Greater Internet Marketing
Residential real estate brokers and property managers are increasing their use of both the Internet and multiple listing services (MLS) to advertise available properties to prospective buyers and renters.
7. Lessors of residential buildings
The 52,400 lessors of residential buildings and dwellings in the U.S. lease single-family homes, apartment buildings, and townhomes. The industry includes owner-lessors and firms that rent real estate and subsequently sublet property to others.
Vulnerability to Trends in the Housing Market and Economy
The housing market is cyclical, and market conditions affect property income and values, and the ability to collect rent.
Capital-Intensity of Operations
The residential owner-lessor business is extremely capital-intensive.
6. Trucking companies
The 119,400 trucking companies in the U.S. provide transportation services for a wide variety of goods. The majority of truck loads are full truck loads (TL), meaning a single customer fills the entire trailer. About 15 percent of loads are less than full truck loads (LTL), where freight from multiple customers is consolidated into one trailer.
High Failure Rate
Small trucking start-ups have a high failure rate, with an estimated 85 percent failing before their second year of operation, according to the National Association of Small Trucking Companies.
Limited Driver Hours
The federal hours of service (HOS) rules dictate how long a driver can be on duty and behind the wheel.
5. Law firms
The 162,800 law firms in the U.S. provide advocacy and advisory services to businesses, non-profit organizations, individuals, and government agencies. The practice of civil law accounts for 94 percent of the legal industry's revenue, while criminal law accounts for only 4 percent.
Client Cost-Cutting
Businesses have cut the budgets of their legal departments, forcing them to reduce spending on outside legal services.
Alternative Fee Arrangements
Driven by client demands for cost containment, firms are offering alternatives to the traditional billable hour model.
4. Physician practices
The 210,600 physician practices in the U.S. consist of primary care and specialty practices. Primary care physicians are responsible for monitoring an individual's overall medical care, performing physical exams, and treating minor illnesses. Primary care practices include general and family practices, internal medicine, pediatrics, and obstetrics/gynecology. Specialty practices focus on a particular area of medical care and may also perform surgeries to treat problems. Specialists include allergists, cardiologists, dermatologists, gastroenterologists, general surgeons, ophthalmologists, orthopedists, psychiatrists, and radiologists.
Lower Reimbursement Rates
Physician practices are highly dependent on reimbursements from private insurance companies, Medicare, and Medicaid.
Adapting to Changing Standards
Practices must ensure their billing software is ready for new billing codes and claim submission requirements, or they face disruptions in their cash flow.
3. HVAC and plumbing contractors
The 260,000 HVAC and plumbing contractors in the U.S. provide installation, repair, and maintenance services for air handling and water management systems. Just over 60 percent of HVAC and plumbing contractors are solo operators. Contractors may specialize in residential, commercial, institutional, or industrial service.
Dependence on Construction Industry
Demand for HVAC and plumbing services is highly dependent on trends in the construction industry.
Increasing Sophistication of HVAC Systems
Demand for improved efficiency in the non-residential market has led to increasingly complex HVAC systems and automated monitoring programs.
2. Full-service restaurants
The 217,000 full-service restaurants in the U.S. provide food services to patrons who order and are served by wait staff while seated and pay after eating, a practice known as "table service." Firms may also offer catering services, food and beverage for off-premises consumption, and non-theatrical entertainment. The full-service restaurant industry includes chains, franchises, and independent operators.
High Labor Turnover
Full-service restaurant operations are labor-intensive, and the quality of service is highly dependent on staff.
Uneven Demand
Full-service restaurants are characterized by demand that can vary by day of the week and time of day.
And, finally, the most visited Industry Profile for 2022 was…drum roll, please…
1. Dental practices
The 136,400 dental practices in the U.S. are in the business of providing "oral health," including hygiene or preventative care, restorative treatments, and oral surgery. 78 percent of dentists are in general dentistry, while orthodontists represent 5 percent and oral surgeons and pediatric dentists each represent 4 percent. The rest are specialty practices, such as endodontists or periodontists. About half of dentists are in solo practices.
Weak Economy Lowers Demand
Demand for dental services had been thought to be "recession-proof," but the past recession and recent pandemic saw a drop in dental appointments and billings.
New Treatment Technologies
Technological advances continue to increase quality, enhance patient comfort, and speed the delivery of dental treatments.
All of the industry information found in this post came directly from Vertical IQ's Industry Profiles. If you want even more in-depth Industry Intelligence on these and hundreds of other industries, contact us today to get started!

We wish you a happy, healthy, and prosperous 2023!
Image credit: Pexels and Vertical IQ