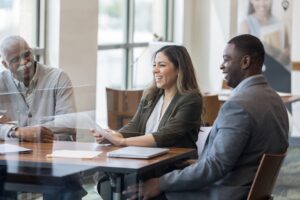 The American Bankers Association (ABA) held their Conference for Community Bankers in Orlando, Florida, and I had the pleasure of attending it. Not only is Florida weather a welcome experience in mid-February (if only the conference was a bit longer!), but the ABA hosted a fantastic event rich with information, networking, and meaningful conversation.
There were a lot of excellent sessions and panels at the event, and they all seemed to relate back to one overlying theme – building relationships and trust, which has become a very common theme in the commercial banking space.
Here are a few of my biggest takeaways from the conference.
"Inflation Strikes Back"
One of the sessions from the conference, titled "Inflation Strikes Back," was given by Brian Bailey, CRE Supervisor of the Regulation and Credit Division for the Federal Reserve Bank of Atlanta. A large focus of the session was on commercial real estate (CRE) loans and what their overall outlook is with regards to inflation and the current economic environment.
Although inflation is slowly improving and the supply chain is getting better, CRE lending is under pressure because of office vacancies and a shortage in housing (especially in the lower-income segments). Bailey explained that most office leasing occurs in newer buildings built within the last decade, which makes it more difficult for owners of existing older buildings to raise rent prices and lease their buildings at a profitable rate. Capitalization rates are expected to rise as well, and all of these factors are leading to declining value and leverage, as well as increased risk, for lenders.
All of these issues are factored into credit underwriting, which was another topic of discussion. Banks are looking to increase underwriting standards because of the current risk involved with CRE, and this is where Industry Intelligence can lend bankers a hand. Vertical IQ's Credit Underwriting and Risk chapter supports banks and lenders in bolstering their underwriting by assessing industry risk ratings, risk factors similar to the ones discussed above, and underwriting considerations for various industries and the businesses within them.
"A Forward-Thinking Approach to Lending"
One of my favorite sessions was a panel discussion featuring Movement Bank SVP Lacy Cross, Park National Bank Division President and CCIM W. Andrew Holden, and First State Bancshares CLO Kraig Sutherland. In the session, they discussed a "forward-thinking approach" to business lending and focused on the importance of knowing the market – and its niche industries – in order to understand which industries have the best opportunities. Cross mentioned his bank's approach to working with "nontraditional" industries – such as wedding venues, picture framing shops, and organic farming – and lending to these niche markets where they don't have nearly as much competition.
At Vertical IQ, we know that a huge part of being prepared to do this is truly knowing the prospective business' industry, which is where our platform comes into play. Understanding a new market before the first touch with a prospective business – including the industry's trends, news, working capital, and challenges facing that market – propels you to think forward and have confidence, allowing you to have deeper conversations and forge stronger lending relationships with businesses.
Relationship Banking in the Digital Era
Speaking of deeper conversations and stronger relationships, it is more important than ever for relationship bankers to not only know their customers' industries, but also provide them with deliverables that are insightful and actionable. Nowadays, it's all about "hyper-personalization" – and it is the job of the banker to get to the bottom of customers' pain points, build their business offering around customer needs, and tailor solutions specific to those needs.
So how can you drive actionable insights into the hands of lending officers and capitalize on business lending using those insights? According to Andrew Tierney, Director of nIQ Delivery at nCino, you can:
"Be people" – Executives pointing their lenders to the right place, as well as providing the tools needed to help them gain the insights they need to foster stronger customer relationships, goes a long way. Being a "universal banker" is a helpful skill to have to increase credibility and build trust.
Turn data into actionable knowledge – Use the industry data available to you for things such as ROI insight and risk mitigation so you can understand customer challenges, pain points, and potential business solutions.
Create one experience from many – Take your industry knowledge and data, as well as what you learn from your customer through conversation, to create a lasting, memorable experience for them. Keep your conversations customer-centric and focus on implementing solutions that will not only address their business' pain points, but differentiate their experience with you from your competitors.
Each of these can be addressed by using Vertical IQ and taking advantage of the platform's timely and relevant content, which streamlines the research process, saves bankers time, and puts data right in the hands of their customers and lending prospects. Leveraging Industry Intelligence helps lenders anticipate a business' needs and offer them the right tailored solutions to address those needs.
>> For more information on how Vertical IQ's Industry Intelligence can help relationship bankers tailor solutions for their customers, click here
Image credit: Pixabay via Pexels