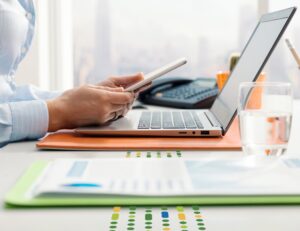 In the aftermath of the Silicon Valley Bank (SVB) and Signature Bank closures, there is a lot changing very quickly across the banking landscape. As the situation evolves, Vertical IQ's team of research and news analysts is paying close attention and providing coverage as it relates to not only commercial banking, but also the potential influences on a broad range of industries.
We are increasing the frequency of Recent Developments bullets published in the Current Conditions chapter of the Commercial Banks profile during this fluid period. These bullets provide information and analysis on how the banking industry is being impacted by the closures of SVB and Signature Bank, as well as the resulting regulatory actions and economic effects.
In addition, we are expanding our News chapter coverage by publishing more of the latest articles on these issues in the relevant profiles.
The closures of banks and concern over access to funds has a broad impact on the economy and businesses, and Vertical IQ's Industry Intelligence helps you cut through the noise to get to the bottom of how current events are impacting various industries. Users can also share content from the Current Conditions chapter using our Industry Snippets feature: Shareable content is available to either copy the text to share through social channels or send it directly to a customer's email inbox.
Here is a sample highlighting a few of the sections we've updated. Click this link to stay up-to-date on the latest news and developments as they are updated daily.
Recent Developments – Commercial Banks
March 16, 2023 — Regional Banks Remain Under Pressure
U.S. banking sector stock price volatility continues as attention turns again to regional banks.
U.S. depositors are moving billions away from small and regional banks after the collapse of Silicon Valley Bank and Signature Bank, according to sources including Reuters news service and The Financial Times.
Private lenders are seeing greater demand from venture-backed companies seeking new loans, according to PitchBook.
The U.S. Treasury and the Federal Reserve announced measures on March 12 to contain the financial damage from the March 10 closure of SVB and the March 12 closure of Signature Bank.
Vertical News – Commercial Banks
First Republic Bank is reportedly looking for a buyer
The San Francisco bank was downgraded by the credit rating companies S&P Global and Fitch.
March 16, 2023, The Street
U.S. stocks fall as bank worries spread to Europe; Dow down 500
Stocks were tumbling on Wall Street Wednesday as worries about the strength of banks worsen on both sides of the Atlantic Ocean.
March 15, 2023, Springfield News Sun
Local banks feel effect of Silicon Valley failure
A number of regional banks across the country took huge hits to their stock values on Monday as a result of the failure of Silicon Valley Bank (SVB) last week.
March 14, 2023, The Daily Item (Lynn, Massachusetts)
After two historic U.S. bank failures, here's what comes next
Two large banks that cater to the tech industry have collapsed after a bank run. Government agencies are taking emergency measures to backstop the financial system, and President Joe Biden is reassuring Americans that the money they have in banks is safe.
March 13, 2023, AP News
SVB borrowers face a quandary: Wait and see, or start afresh?
Companies with funds at Silicon Valley Bank were relieved to find out on Sunday night that the government is stepping in to guarantee their deposits. But for some of these businesses, an important question remains: What will happen to the debt they borrowed from the failed bank?
March 13, 2023, Pitchbook
>> Stay on top of the latest news and trends impacting this industry and other industries from more than 97 percent of the U.S. economy and Canada.
Image credit: Vertical IQ