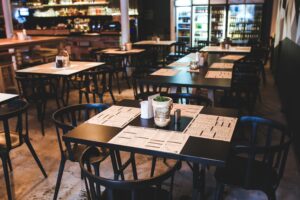 What a difference a pandemic makes. Three years ago, the coronavirus shuttered more than 110,000 U.S. restaurants, either temporarily or for good, cast some 2.5 million restaurant workers out of jobs, and erased an estimated $240 billion in industry sales.
Restaurants that remained open scrambled to respond to constantly changing regulations, occupancy limits, and safety guidelines. They adapted their operating models, adding new features and services like outdoor dining, curbside and contactless pickup, to-go cocktails, and expanded takeaway and delivery services to limit exposure. Many invested in technology to maintain social distancing and compensate for staffing shortages.
Given the depth of the business and social disruption caused by the pandemic, it's remarkable that the restaurant industry is in as good a place as it is today. Industry sales totaled $937 billion last year, up from $824 billion in 2021 and just $659 billion in the first year of the pandemic. Employment also has rebounded with staffing levels in February 2023 at about 88 percent of those in February 2020. Today, restaurants are among the U.S. economy's fastest-growing employers.
Still, it is hardly business as usual at restaurants these days. Adaptations made to survive the pandemic likely are here to stay, according to the National Restaurant Association's 2023 State of the Restaurant Industry Report. The report notes that a "new normal" has taken hold in the industry, with the "temporary" pivots made by restaurants during the pandemic leading to lasting change and transformation.
Post-pandemic challenges and opportunities
Lack of adequate staffing – The restaurant labor force is still about 450,000 jobs short of pre-pandemic levels — marking the largest employment deficit among all U.S. industries, according to the Bureau of Labor Statistics.
Higher labor costs – The average hourly rate for U.S. restaurant workers increased by more than 20 percent between the summer of 2020 and 2022, rising from $16.65 to about $20 per hour, according to TastingTable. With many restaurant operators still struggling to fill positions and the minimum wage on the rise around the country, labor costs are likely to increase again this year.
Food price inflation – Restaurant operators can expect food prices to continue to rise at above historical average rates this year, but not as much as in 2022, according to the latest projections from the U.S. Department of Agriculture's Economic Research Service. Based on data from a new USDA national food price forecast, food prices will climb an estimated 7.9 percent this year over 2022 levels.
Reduced menu offerings – To manage rising food costs, 31 percent of restaurants report trimming their menus, while 30 percent say they have substituted in lower-cost ingredients, according to a survey by Toast, a software as a service (SaaS) provider to the restaurant industry.
Higher menu prices – Menu prices, which have risen steeply as restaurants passed rising food and labor costs on to diners, will continue to climb due to persistently high costs. Food-away-from-home (restaurant purchases) prices are predicted to increase between 4 and 5 percent this year, according to the USDA.
Diners trading down – As inflation drives up menu costs and shrinks consumers' discretionary spending power, many diners are "trading down" by visiting less expensive eateries like quick service restaurants (QSRs), according to Restaurant Dive. Moreover, low-income consumers may cut back on visiting restaurants altogether. Restaurants surveyed told Rewards Network that they expect 20 percent of diners to seek more value from their dining expenditures.
Reduced hours – Restaurants have trimmed their weekly operating hours by 7.5 percent, or 6.4 hours, compared with pre-pandemic schedules, according to food analytics firm Datassential, which found that 59 percent of the more than 763,000 U.S. restaurants were operating on shorter schedules last October than they were in 2019. Just 19.8 percent of eateries have increased their hours.
Dynamic pricing – Dynamic pricing (aka surge or demand pricing) has emerged as a tool for restaurants to maximize profits during specific dayparts, with some industry experts saying it could become a common practice, according to Restaurant Dive. Digital technology could help restaurants change their offerings or prices several times a day.
More automation – Online ordering and payment via PCs, mobile devices, and in-store kiosks increased during the pandemic. Contactless ordering and payment saves on labor costs, and consumers like the convenience. According to Square's The Future of Restaurants Report for 2023, 38 percent of restaurants plan to automate operational activities to maximize staff efficiencies. On-table QR codes speed ordering, reduce errors, and save money on menu printing.
More drive-thru lanes – At least four in 10 operators in the quick service, fast casual, and coffee and snack formats believe the addition of drive-thru lanes will become more common this year.
And this is not an exhaustive list of the changes and challenges facing restaurants today. What hasn't changed, however, is people's desire for someone else to do the cooking, whether that involves visiting restaurants or ordering in. According to the National Restaurant Association's 2023 State of the Industry report, 84 percent of consumers say going out to a restaurant with family and friends is a better use of their leisure time than cooking and cleaning up. And while three years after COVID's onset 16 percent fewer people are dining on-premises than before, the group says the gap has been filled by off-premises business.
As consumers continue to covet restaurant experiences, growth will continue, with the foodservice industry forecast to reach $997 billion in sales in 2023, driven in part by higher menu prices.
Looking ahead
As the restaurant industry continues to evolve in the aftermath of a once-in-a-lifetime pandemic, it is important to stay ahead of everything that is happening within the industry. Vertical IQ's Current Conditions chapter as well as the industry Dashboard – which are available for each industry – provide specified and focused insights on the most recent developments affecting restaurants. The Dashboard includes a QuickView detailing the overarching issues and trends affecting the industry, a Credit and Risk Brief, and a Working Capital Summary, all of which can be leveraged to in conversations with restaurant owners and management staff.
All in all, you can count on Vertical IQ to keep you informed and provide actionable, convenient, and focused industry insights to your customers in the restaurant industry.
Image credit: Kaboompics via Pexels