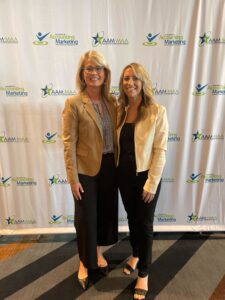 If there is one thing that's more prevalent than ever in today's accounting landscape, it's that you have to stay mindful, present, and prepared when communicating with clients.
I recently attended the 2023 Association for Accounting Marketing (AAM) Summit. I enjoyed the opportunity to connect and network with marketers in the accounting industry, and it also reinforced valuable insights about staying present and knowing your worth in order to position yourself for success. There were many great takeaways from the summit, and here are a few that stood out to me.
"The Art of Positioning 'You'"
The first of the two keynote speakers, Fore LLC's Michelle River, emphasized the importance of focusing on "worth over value." She explained that when you think of "value" (such as the "Great Value" brand at Wal-Mart), the term has baggage about being "cheap" – and this is the last thing you want your brand or product to suggest in the business landscape.
Instead, position your product's value proposition around "worth", as "worth" is associated with true value. Use the "four Ps" – product, price, place, and promotion – as well as people, processes, and physical evidence to elevate your firm's value proposition. Automation is on the rise, and competitor prices are increasing irrelevantly, so it is more important than ever to show that worth. You can't be an "order-taker", you have to go above and beyond to expand relationships by asking:
Where are your clients now and where are they trying to go?
What's important to them?
"What else?"
If you don't close, it's not because your price was too high – it's because your worth was too low.
People are the Engines of Your Growth
Kristin Lewis, managing Director of Marketing at EisnerAmper, talked at length about how people are the "engines for your growth" and how it's crucial to have advisory conversations with your clients. In order to differentiate, you need to not only become a reliable source of information, but also develop a genuine sense of trust. Speaking to outcomes, using client-facing language, and knowing the industries you are advising are the most surefire ways to avoid competing on price.
These are some ways you – with the help of Industry Intelligence – can ensure your clients are the engines for your growth:
Choose an industry focus based on data and research.
Engage your team in effective, meaningful planning and

call prep

strategies.
Be authentic and play to your strengths: Dig into the numbers, take a peek at

local economic

conditions, and don't choose industries that aren't a fit for you!
Achieving Work-Life "Harmony"
We often hear about "work-life balance," and for good reason. However, Amy Vetter – B3 Method Institute CEO – shifted that thinking and talked about work-life harmony.
She stressed that quality time is not leftover time, and it is important to focus on your purpose. In relation to this, she explained the components of her company's "B3 Formula":
Business – Striving for success in the workplace
Balance – Creating an environment of mindfulness and collaboration
Bliss – Being empowered and maintaining happiness, the "nature of your soul"
Because we are not overly present people and tend to be reflective on the past (which hinders execution of the B3 Formula), she had some suggestions for making this work, such as: a two-minute "reset" before every meeting, eating and sleeping well, and creating a mantra so we can stay present and remain attentive to details in conversation.
A Perfect Complement
This summit was rich with valuable insights, fantastic conversations, and great opportunities. I kept going back to how Industry Intelligence helps you stay present and positions you for success by saving you time, helping you prepare, and giving you the timely and relevant industry insights you need to have thoughtful and robust interactions with your clients. It can help you thrive in the now and build for the future rather than dwell on missed opportunities of the past!
>> See how Vertical IQ can help you stay present and remain top-of-mind with your clients
Image credit: Susan Bell, Vertical IQ