Vertical IQ co-founder and Clarity Advantage president Nick Miller has been working in the banking industry for most of his career. Nick and Clarity train banks and bankers to attract and develop deeper relationships with small businesses.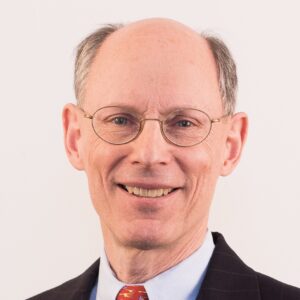 How are you going to compete for core deposits? Or, what's left of deposits? Curinos' data indicates that traditional retail bank deposits declined in 2022 while direct bank market share (attracting primarily rate-sensitive money) grew double digits to 16 percent of the market; commercial deposits declined 10-12 percent last year and Curinos projects they'll decline 6 – 10 percent in 2023.
Where to go for deposits? In a recent S&P Global webinar, participants were asked, "What will be your primary strategy for attracting new deposits?"
41 percent indicated that they'd raise rates. 31.7 percent said they'd attract additional funds from existing clients. Only 2 percent indicated that they'd invest in prospecting deposit-rich industries. This seems to indicate an admission that they don't have strategies to attract core deposits from "new to bank" deposit-rich industries or firms.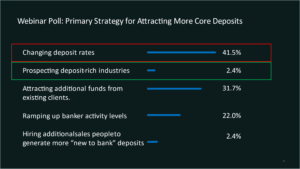 So, how to solve that problem? Presentations at the recent Barlow Research Business Banking Conference and the S&P Global Community Banking Conference suggest: Specialize… develop niches… i.e., and offer a compelling reason (other than rate) to engage and attract firms in those deposit-rich industries to your bank. That compelling reason is likely to involve some level of specialization.
Just as "personalization" is becoming table stakes in consumer banking, (at an earlier stage of development) "specialization" – deeply understanding the challenges of a particular industry or cluster of industries and offering services and products that address them – is becoming table stakes in small business and commercial banking.
For example:  In his March 31 blog, Chris Nichols of SouthState Bank offered his "Top 20 Deposit-Rich Industries for 2023" based on their modeling. (BCG and other firms offer similar lists, and there are many overlaps). Chris opined that, if you're able to attract 15 or more of those firms in a particular industry in a three-year time frame, it's worth developing some targeted marketing materials and assigning at least one person dedicated to pursue firms in that industry based on expertise and capabilities rather than on higher Certificate of Deposit (CD) rates.
To develop a plan for the chosen customer segment or segments, you should:
Identify in your market the deposit-rich industries and the firms in those industries
Decide which of those industries and firms you'd like to bank
Understand the challenges they face
List the financial firms that are currently serving the potential target industries and firms and how they're serving them (general banking products or industry-specific, in-person or digital self-service, etc.)
Identify gaps or issues that you could exploit to earn conversations with the target firms
Articulate your value proposition – why should those firms pay attention to you, consider switching to you, and, ultimately, make the move?
Then, develop the marketing materials and services (vaporware can get you started but not sustain you) to communicate and deliver that value proposition and select the one or two "dedicated persons" who will focus on the chosen segments.
In addition to the "one dedicated person", educate remaining members of your commercial, small business, and branch sales teams about the chosen target industry or industries. Vertical IQ is the strongest sales-oriented Industry Intelligence platform for this purpose, as its Financial Benchmarks, Credit Underwriting and Risk, and Working Capital chapters can both help you identify cash-intensive industries to target and provide insights for the industries you choose.
>> Learn more about Clarity Advantage Corporation

>> Learn how Industry Intelligence from Vertical IQ can help you target and capitalize on deposit-rich industries!
Image credits: Curinos, Nick Miller, Pexels