If you're in the accounting world, chances are you're already familiar with PrimeGlobal: The Association of Advisory and Accounting Firms, an award-winning association boasting over 300 highly successful independent member firms across 112 countries.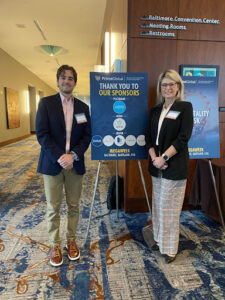 What better way to celebrate Vertical IQ's new partnership with PrimeGlobal than to be front-row attendees at their flagship MegaWeek conference! MegaWeek brings together professionals from diverse tracks, including marketing & business development, firm ops, IT, and HR. Read on to discover what we learned from our week in Baltimore and what's top of mind for accounting professionals.
Generational differences: More in common than different
The conference's keynote session dove into generational differences in the workforce. While it's true that each generation has its unique work style, preferences, and challenges, there's a common thread that binds them together. Instead of fixating on differences, organizations should embrace this diversity as a cultural benefit rather than a culture-killer.
Learning from each other
One of the significant advantages of having a multi-generational workforce is the opportunity for cross-generational learning. Each generation can impart wisdom and insights to others, creating a collaborative atmosphere.
Winning over young talent
With a focus on competing with the "Big 4" firms in hiring, discussions revolved around what attracts younger employees to smaller firms. Culture, benefits, and clear expectations emerged as key factors that make smaller firms appealing to the younger workforce.
Open panels and idea-sharing
PrimeGlobal facilitated open panel discussions with current college students, allowing firms to gain invaluable insights into hiring strategies, career path planning, and more. Idea-sharing was a prevalent theme throughout the conference.
The role of AI
AI was a hot topic in nearly every session, dispelling myths about job displacement. Rather than taking jobs, those who understand how to harness AI's power are set to thrive. Embracing technological advances and integrating AI into firms can increase efficiency without sacrificing the personal "human touch."
Balancing tech and humanity
Marketing teams, in particular, grapple with finding the right balance between technology and the human element. It's a challenge that many are facing in the fast-paced world of AI integration and something that remains top of mind in the accounting world.
A collaborative community
One standout aspect of the PrimeGlobal MegaWeek conference was the spirit of collaboration. Member firms openly discussed both their failures and successes. It was an atmosphere where firms supported each other, sharing similar experiences and strategies for overcoming challenges. MegaWeek truly felt like a family of firms celebrating successes and learning from failures, together.
A mega-successful MegaWeek
In summary, the PrimeGlobal MegaWeek conference highlighted the importance of appreciating diversity, embracing technological advancements, and fostering a collaborative community. These insights serve as valuable lessons for accounting firms looking to thrive in an ever-evolving business landscape.
>> Your small to medium-sized business (SMB) clients look to you for sage advice on the financial drivers impacting their businesses. Learn how Vertical IQ's Industry Intelligence can help you offer tailored recommendations and become an invaluable asset to their business. Click here to learn more about Vertical IQ and to request a demo.