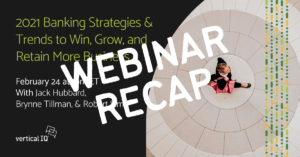 In the first can't-miss session of our Vertical IQ Spring 2021 Banking Webinar Series, 2021 Banking Strategies and Trends to Win, Grow and Retain More Business, I was honored to moderate a panel of incredibly knowledgeable experts covering a range of hot topics in business banking. The panel included three authorities in their fields: banking sales expert Jack Hubbard, digital marketing guru Brynne Tillman, and SVP of retail banking at Hancock Whitney, Robert Sims. Their insight was high-impact, practical, and ready-to-leverage immediately in your day-to-day activities.
As I recently blogged about, Barlow Research shows that bankers are rarely small to medium-sized business (SMB) owners' go-to when it comes to soliciting business advice. During the panel discussion, we explored ways bankers can establish stronger relationships with their SMB customers to improve their standing on this front. We also discussed how they can offer the type of trusted advice that an SMB owner will appreciate, ensuring the banker is associated with value in that customer's mind.
All of this, of course, is directly tied to a banker's overall sales success. And using Industry Intelligence effectively can help you achieve go-to status with your business banking clients.
Bankers biggest challenges in 2021
Our panel first discussed the top challenges business bankers are facing in this "new normal" of sales and relationship management during a pandemic. The reality is that many of the changes that have occurred as a result of the pandemic — working remotely and virtual meetings, for example — will likely become permanent even after COVID-19 is under control. Bankers, and indeed all sales professionals, need to find ways to not only accept this "next normal" but embrace it and thrive in it.
For instance, traditionally, business development has included hitting the pavement: shaking hands at in-person networking events, handing out business cards at trade events, etc. These things are mostly off the table right now, so sales professionals must find new avenues for building their book of business that can be done remotely.
Social media and other must-have tools
One good option to adapt to what Jack Hubbard referred to as not the "next normal" but the "forever normal" is using social media effectively. Brynne Tillman shared that LinkedIn is her top pick for virtual networking but noted that, while those interactions are virtual, they still need to be personal. Brynne reminded us that "there is still a human being on the other side of that message."
Additionally, Robert Sims and Jack both noted that bank leaders need to equip their teams with the right tools to succeed in this new selling environment. Hardware (like at-home printers, better lighting for video meetings, etc.), software, and training are now must-haves for sales professionals conducting business remotely.
Robert added that it's important for banks to remember to "play in their space … there are certain industry segments that you serve better than others." While banks need to serve the community/marketplace they are in, it is also wise strategically for banks to narrow their focus to those niches where they are most successful.
Nurturing relationships while juggling PPP
PPP has caused a lot of bankers to take their eyes off the ball when it comes to both prospecting and nurturing existing relationships. Continuing to reach out to customers simply can't be put on the backburner. So, while PPP has put more on bankers' plates in many cases, there are quick and simple ways to use Industry Intelligence to continue with your business development outreach tactics.
Jack shared that one bank he works with sends out the Vertical IQ Economic Update to their top business banking clients on a regular basis, along with a personal email note from their banker. It's an easy touchpoint, but it is truly valuable information from an SMB owner's perspective.
Another bank sends emails to three different prospects each day, which includes something of value such as a whitepaper or pertinent news article. "You have to continue to add value," Jack reminded us, "because if you don't, your best clients are the best prospect for your competitor."
Innovative social media outreach
Brynne recommended taking stock of your existing contacts, noting those you haven't been in touch with recently, and using it as an opportunity to re-engage and identify new opportunities. Remember also to discuss "what they care about, not what you want to tell them," she said — not bank products, interest rates, and so on. "We have to build relationships around what matters to them … what your client cares about." And that will of course depend on what industry they are in.
She also suggested identifying key influencers — such as the president of a local association — who are effectively attracting your target customers via social media. "Listen" to (i.e., read) what people are saying in response to that influencer, but the key is to chime in only to ask a salient question or share relevant information — not to hock a banking or credit product.
This is also a great opportunity to mention (but not yet share) a timely, industry-focused news article from Vertical IQ. Brynne reminded us, once you've engaged in an online conversation with someone in that influencer's forum about the topic of the article, only then should you ask if your target would like you to send them the link to the article. Always ask permission to share information; you'll get a higher engagement rate with this technique of adding value without pushing product.
Ultimately, using social media effectively is about personal interactions and building trust. As Jack said, "spray and pray doesn't work in any kind of … trust-based situation," and Brynne wisely noted, "Slow down your outreach to speed up your outcome."
Dealing with email overload
Another problem is of course that everyone is inundated with emails and social media messages right now, so how do you break through the clutter and get your customer's or prospect's attention? "Number one is good networking," said Robert. By identifying target industries, you can focus your efforts on LinkedIn to look for existing contacts who can connect you to your target prospects.
When someone that prospect already knows reaches out and can vouch for you, or when you can reach out and tell that prospect that your mutual connection suggested contacting them, it will elevate that prospect's trust in you. It will also encourage them to prioritize your communications to them.
Ongoing opportunities to shine
During this time when bankers often can't be face to face with their clients and prospects, there are still a number of ways to keep them engaged. As Robert pointed out, by identifying your institution's strengths with particular niches, you can determine who your target market is and focus your efforts there. Use a good data source to identify who the prospects are in that vertical, and then use the techniques shared by Brynne and Jack to network with those targets.
Our three panelists showed that with support from leadership, proper training, and execution accountability, bankers can still win new business and nurture existing relationships even when you're separated by a computer screen. Give these techniques a try and see how your book of business can grow!
>> You can learn many more practical tips and tricks about using social media and centers of influence in your virtual networking and business development by watching our entire panel discussion here.

>> Learn more about our other upcoming free webinars that are part of the Spring 2021 Banking Webinar Series!