How time flies when you're having fun! This is the third in a series of four blog posts commemorating the 10-year anniversary of Vertical IQ. Each post will feature one of our company founders sharing their memories and thoughts on Vertical IQ's early days.

Related:
Vertical IQ co-founder and EVP of Sales Susan Bell is a former banker, who has long held a passion for helping sales professionals and advisors differentiate themselves.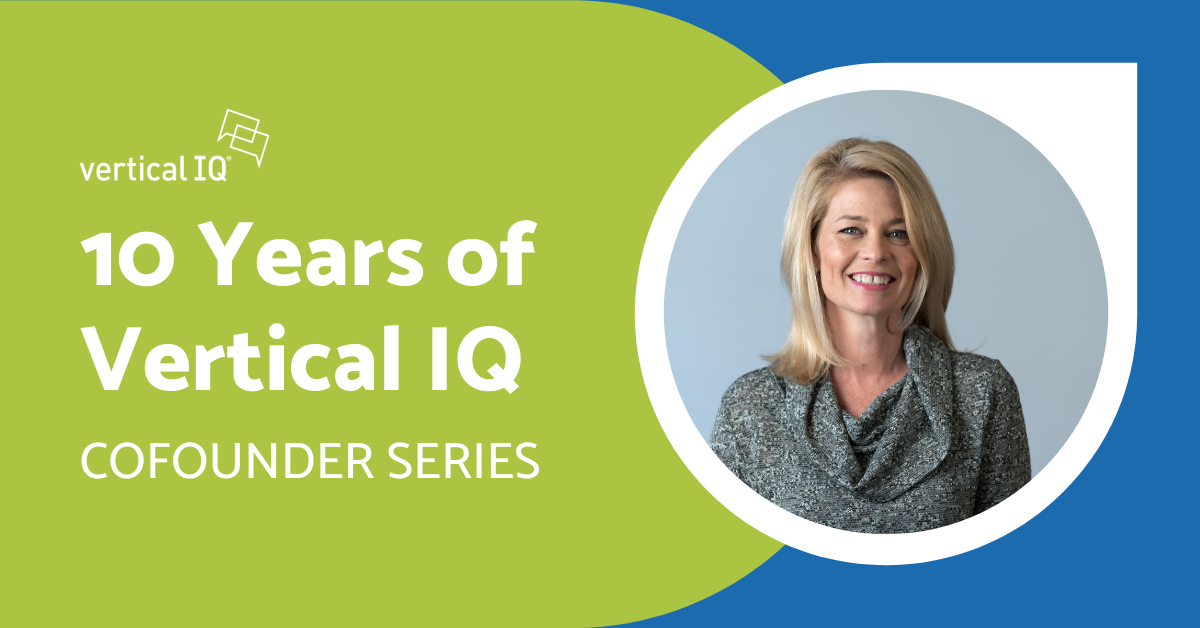 "When I first started selling Vertical IQ to prospects in those early days of the company, we had maybe 50 Industry Profiles. I knew it was a leap of faith for longtime customers and prospects who knew me from previous roles I'd been in to join the Vertical IQ journey. It was definitely an 'If you build it, they will come' situation. But what really struck me was that those early adopters became like family. They took a chance on us, and most are still customers 10 years later.
"The creation of Vertical IQ brought industry research into a new decade. Before, this type of research was just a report. Now, thanks to Vertical IQ, it's actionable. We put Industry Intelligence into people's hands through shareable content, a mobile version, and more. The platform itself was lightyears ahead of what industry research was before we came onto the scene.
"After these 10 years, I think one of the best things our customers can say about Vertical IQ is that we just keep getting better. The compliment they give us as a company is we are small but nimble. We are indeed empowered to do the right thing for our customers; there isn't red tape like at a big company. It's a personalized experience, and I really like being able to do that for our customers."
A family of coworkers and clients
"What I love most about working at Vertical IQ is the people. We truly have a family here. Not only do we work well together, we also are embedded in each other's lives. We go to weddings, celebrate babies, cheer on the successes of other's families, and we support one another through the tough times.
"Joining Vertical IQ in its early days was a lifestyle choice — a career choice — for me. I've had the ability to work remotely since before working remotely was a 'thing.' I've always been two hours away from our headquarters, but I never felt disconnected from the team. Flexibility and 'family first' are philosophies that people within this company have always embraced.
"This all goes back to how we treat each other, and it also is reflected in our relationships with our customers and prospects. Ultimately, it has to do with loyalty. I've been loyal to my co-founders through several companies. In fact, I've worked with Bobby [Martin, co-founder and CEO of Vertical IQ] since 1993 when we were both in banking. Loyalty is just a part of my personality, and that's reflected in how I treat our customers. I am dedicated to them, cheer them on, and do everything I can to help bring about their success."

Thoughtful innovation
"In addition to our dedicated and personalized customer experience, we can be nimble and forward-thinking because we are small and don't have to wrestle with red tape. We put a lot of thought and energy into our product, which means constantly listening to what customers are saying. We are able to respond quickly but conscientiously with enhancements and innovations.
"For example, creating strategic partnerships over the years has been one of the keys to Vertical IQ's success. We try to go to market wherever salespeople's eyes are to make it easy and convenient to access Industry Intelligence. Whether that means integrating with other research or sales enablement tools, we want to make it simple to access the information you need to win more deals.
"Steve Jobs always strove to give people things they didn't even know they needed out of an Apple product, and we have a similar mindset here at Vertical IQ. Instead of playing catch up, we always aim to stay ahead of what people realize they need, and we will continue to do that in the decades to come."