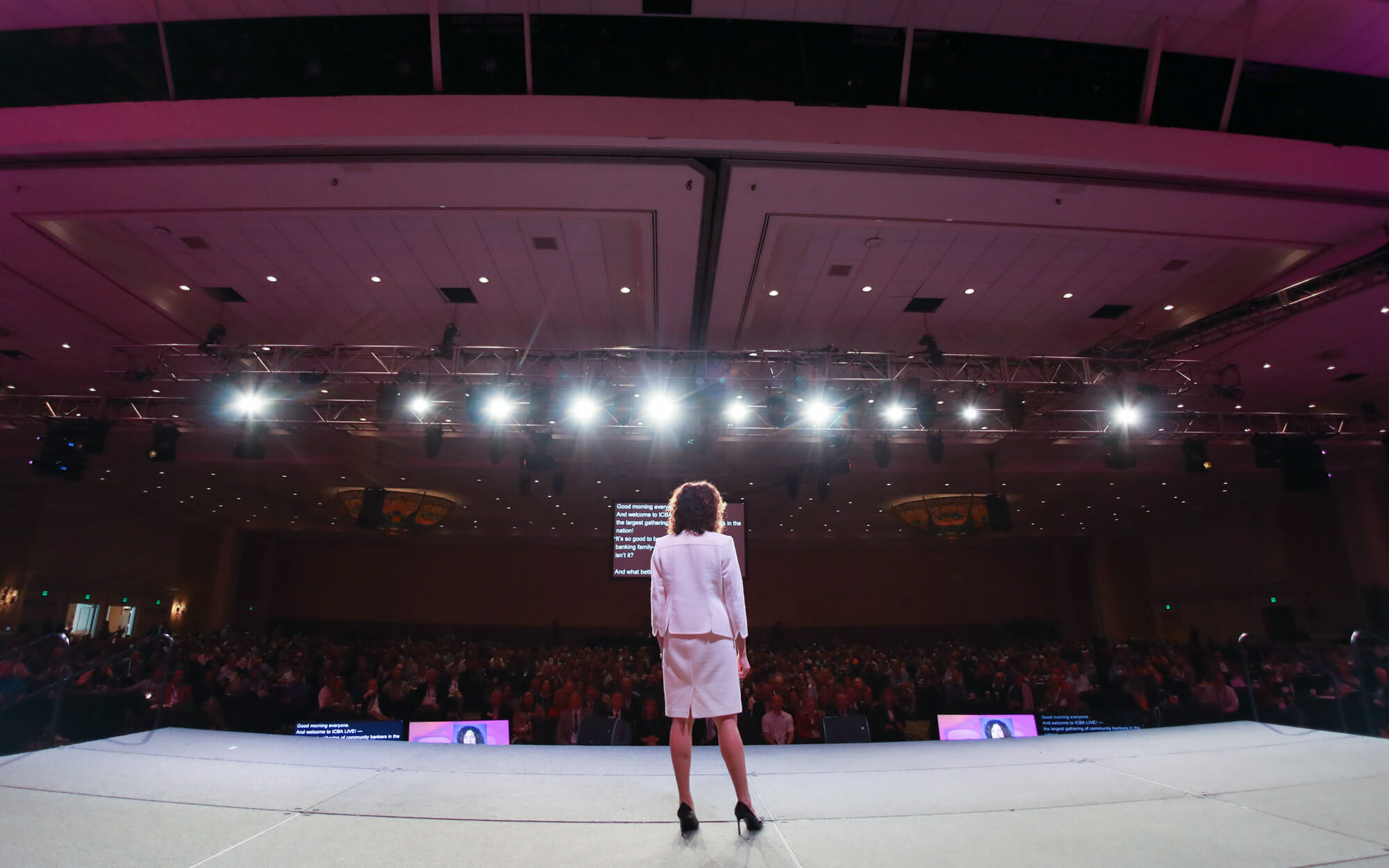 The Independent Community Bankers of America® (ICBA) is one of the largest and most respected trade organizations in the U.S. for community banks. Its mission is to "create and promote an environment where community banks flourish," and flourish they did at the 2022 ICBA LIVE conference in San Antonio earlier this month.
Susan Bell, Vertical IQ co-founder and EVP of sales, Paul Hock, our VP of strategic partnerships, and I were excited to be able to attend ICBA LIVE, where we got to meet lots of great people within the community banking world.
Technology was a recurring theme of the conference, and ICBA clearly is paying close attention to how technology is changing the banking landscape. Smaller banks often market the benefits of their more personal service, but as ICBA acknowledges, there are also advantages that come with technology and keeping your finger on the pulse with other important trends. For example, using their people plus technology resources, many community banks pulled off the Herculean feat of administering the Paycheck Protection Program (PPP) and did an amazing job of it.
A learning experience
All of us in the Vertical IQ contingency really enjoyed talking with and learning from the attendees and presenters at ICBA. There were numerous short breakout sessions on the agenda, which were fast-paced, easy to follow, and energetic, as well as some powerful keynotes.
Listening to ICBA president and CEO Rebeca Romero Rainey, it was clear the organization has experienced, capable leadership and a sharp focus on their goals. Rainey clearly articulated that ICBA wants a fair playing field for community banks and their customers.
The organization has been working diligently to ensure legislation that would require financial institutions to report annually to the IRS on account inflows and outflows does not pass. In essence, the proposed law would allow the IRS to access people's bank account information without a warrant. ICBA's efforts on this legislation have already generated over half a million messages to Congress from over 150,000 community bankers and their customers opposing the legislation.
A keynote by Mike Walsh, who wrote "The Algorithmic Leader," discussed how culture needs to be community banks' operating system, not just technology. He shared the leadership principles that will define community banks in the 21st century:
Think computationally. Harnessing the ability to understand the way a computer processes information allows you to work through a problem when the result is not as expected.
Don't just work – design work. Ask yourself, "Should we even be doing this? Is there a smarter way?" Then, if needed, design it!
Embrace uncertainty. The world is changing rapidly. Successful organizations will learn to deal with ambiguity.
A hopping tradeshow floor
Dozens of fintechs showcased their solutions, which are far more advanced than even five years ago. And forward-thinking community banks are paying attention and effectively plugging into these tech advancements.
The Vertical IQ crew enjoyed conversations with many of the fintechs at the tradeshow, learning about how they can help serve bank customers effectively. We also spent a lot of time with Vertical IQ partner S&P Global Market Intelligence, which had a very active booth showcasing their Capital IQ Pro and other tools.
One intriguing technology solution that I learned more about at the ICBA tradeshow was Accrue. Accrue is one of 11 companies in ICBA's current ThinkTECH Accelerator cohort, which essentially serves as a technology startup incubator. Accrue functions much like the popular Salesforce CRM, but it features workflows built specifically for community banks. It's easy to see how Accrue could be a big part of the future of technology for community banks.
Well-worth the trip
The 2022 ICBA LIVE conference not only met but exceeded my expectations. It was a great location with lots of positive energy and, of course, fantastic TexMex food! But even more important, there were countless conversations between attendees that should lead to new relationships and ideas, or built on existing synergies. I can't wait for ICBA LIVE 2023 in Honolulu!
The future is bright for community banks!
Photo credit: ICBA