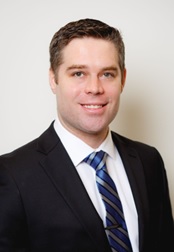 Kyle Peterdy (pictured right), Vice President of the Commercial Banking & Credit Analyst Program at Corporate Finance Institute (CFI), is a former teacher, coach, mentor, and finance professional. He brings a passion for education, as well as unique credentials and career experience. When not at the office Kyle loves to travel and spend time with his family.
We recently had the pleasure of sitting down with Kyle to learn more about CFI and how Industry Intelligence integration benefits their learners.
Q: Tell us about CFI and the Commercial Banking & Credit Analyst (CBCA)™ training program.
A: Corporate Finance Institute (CFI) is the leading, accredited provider of online courses, certifications, and Microsoft Office productivity tools for finance professionals. We have over 5,000 individual lessons and hundreds of hours of practical, hands-on video learning content, as well as model templates and other tools to support skill development, productivity, and brand compliance. We've helped over a million learners in more than 170 countries expand their capabilities across many financial services roles — including commercial lending, investment banking, sales & trading, business intelligence, accounting & advisory, and various finance and treasury functions within corporations of all sizes.
The CBCA™, specifically, has been designed to train and upskill commercial bankers, underwriters, and other SME (small and medium-sized enterprise) lenders. We have over 50 courses, case studies, and credit simulations that are highly relevant for commercial lenders, with topics like credit structuring, financial analysis, and loan pricing; plus more specialized lending topics including commercial real estate, asset-based lending, and even ESG concepts.
Q: What makes CFI different from traditional classroom training programs?
A: We feel strongly that CFI beats traditional classroom training (or virtual instructor-led training) across a variety of measures.
The first is content. Our courses are very hands-on, which often surprises people since we're an e-learning provider. We look to translate theory into practice, and our curriculum includes case-based simulations that really emulate a day in the life for financial services professionals. We believe people learn best by doing.
The second is delivery. We're a pure e-learning provider, so participants can take our courses from anywhere and at any time convenient for them — as opposed to cohort-based, instructor-led training, which requires them to be available, focused, and prepared to learn precisely during the window the session is scheduled. Because our content is consumed individually, our curriculum also can be digested at a pace that's comfortable and optimal for each learner, rather than having participants "tag along" in the group work you typically see in traditional classroom sessions.
The third is the very nature of our learning management system (LMS). CFI's platform is designed to support "performance-adjacent learning," meaning professionals can use our system while executing on-the-job responsibilities. Consider a banker who needs information on a specific topic in order to prepare for a prospect or client call; they can use our resource search functionality to call up a chapter, or even an individual lesson, from our content library in order to help prepare. Learning at the very moment when that information is required and most relevant supports a level of retention that simply can't be replicated in a traditional classroom.
Beyond these three key points, CFI also allows Learning & Development teams to test and triage learners by skill category, create and assign custom learning paths, and track course progress in real time. CFI for Teams clients also can white label our training, earn CPE credits, and issue blockchain-verified certificates. We've really sought to reinvent the way corporate training is delivered to financial services professionals at all experience levels.
Q: What specific challenges were learners at CFI facing that Vertical IQ helped to solve? Why did you choose Vertical IQ to help meet these challenges?
A: For SME (small and medium-sized enterprise) lenders more junior in their career, it can be easy to miss the forest for the trees. What I mean is they meet a prospect or get introduced to a transaction by a broker, and they want to dive right into the financials and start spreading the statements. There's so much more to the due diligence process, though, and being able to think through all those other considerations is really important.
One of the many things we loved about Vertical IQ was their slogan — "Readiness Wins" — and they live up to that standard in every way. Their industry research and intelligence, coupled with call prep resources, really help bankers approach each call with the right combination of big-picture thinking, while also drilling down into specific and nuanced data to support much more comprehensive due diligence.
At CFI, we also believe there's no substitute for readiness. Our commercial lender training has been designed to help bankers analyze transactions quickly and more effectively, and to structure better, more profitable deals. When searching for industry intelligence platforms to partner with, it became clear that our purpose aligned well with that of Vertical IQ.
Q: How has the integration with Vertical IQ benefited CFI's learners?
A: As leaders in business and commercial lending know, client interactions and prospect opportunities are high stakes; it would be hard for me to understate how important that point is. Unfortunately, we're in an environment now where bankers are being asked to take on high-profile client-facing responsibilities earlier in their careers, having had less time to work with a mentor or to see sufficient deal flow (to get prepared for these interactions) than in eras past.
It brings me back to this notion that readiness is so important, and part of being ready is having access to best-in-class tools and resources like Vertical IQ, as well as high-quality training, to help learners get the most out of those tools and resources.
Since setting up the CFI integration with Vertical IQ, we've not only made platform access available to our subscribers, but also produced a Vertical IQ Fundamentals course to support these learners in their professional journeys. We've received really high NPS (net promoter scores) and survey results for this course, as well as some terrific anecdotal free-form feedback about how helpful the integration has been for our commercial lending audience.
Q: If you had to sum up the value of Vertical IQ in a couple of statements, what would you say?
A: Vertical IQ is a great platform for many financial services professionals, but particularly SME lenders. The amount of highly relevant information they include in such a digestible format is both impressive and really valuable. And from our perspective, they're also an absolute pleasure to work with — thank you!
>> Check out CFI's free Vertical IQ Fundamentals course!
Banner picture: Andrew Neel via Unsplash