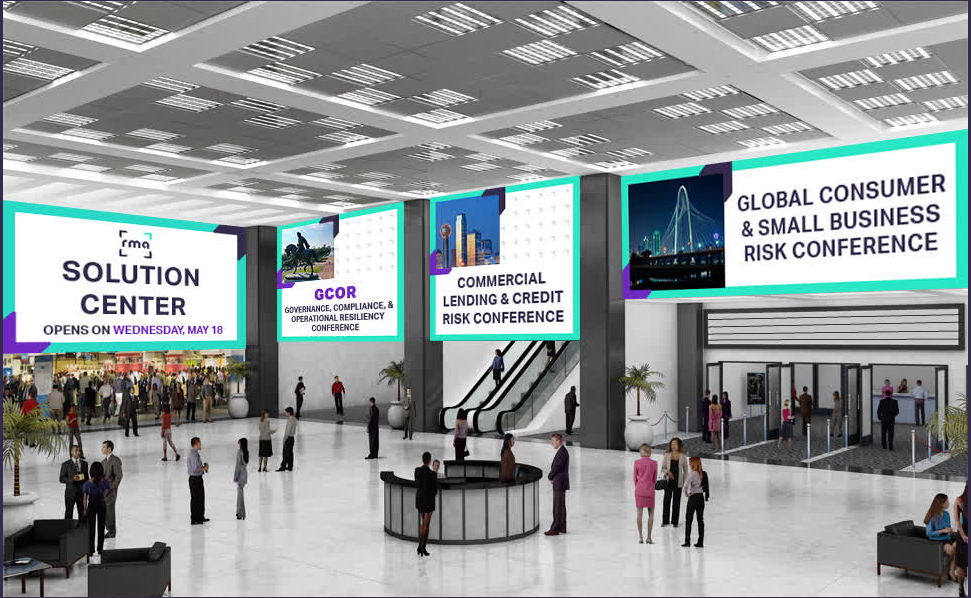 Our partnership with the Risk Management Association (RMA) makes for an insightful and time-saving resource for credit and lending professionals. Based on this collaboration, we were especially excited to attend the excellent RMA Commercial Lending and Credit Risk Conference in Irving, Texas.
The conference focused on the industry's latest best practices and tools that can be used to create and strengthen relationships, add value, and focus on industries that match banks' credit appetite. Here is a quick rundown of the presentations that most intrigued my passion for Industry Intelligence and bankers' preparedness.
PREPARING FOR THE CLIENT CALL
One of the first sessions of the conference was about preparing for client calls; naturally, this one piqued my interest. (This topic was the inspiration for the company that would become Vertical IQ.) In this session, speakers from Bremer Bank, Frost Bank, and OakNorth discussed the importance of preparation and the "value add" of gathering the necessary data to understand a client or prospect's industry.
For instance, you can use such Industry Intelligence to add value by having more tailored conversations. Initiating a conversation with a segue such as, "I see this [fill in the blank industry issue] is happening within your industry. How is that impacting your business?" Or perhaps share a trend by saying, "I have seen other borrowers within your industry taking advantage of this [fill in the blank industry trend]. How could your business benefit from that?"
The key message the presenters emphasized during this session was that nobody wants to have their time wasted, and bankers certainly don't want to waste their client or prospect's time. Tapping into Industry Intelligence to more effectively prepare for a call enables you to not just "not waste their time," it actually allows you to make time spent talking to you entirely worthwhile and even valuable.
STRONG BORROWER COMMUNICATION USING CREDIT ACUMEN
A two-part session focused on the importance of using your knowledge of the credit process in order to create better client communications. Whether you're a relationship manager, underwriter, portfolio manager, or credit officer, you've probably had a client or prospect question nearly every aspect of a loan including structure, pricing, covenants, and more. How do you prepare for these skeptical queries?
In these sessions, speakers from Regions Bank, Alliance Partners, RiverHills Bank, LightBox, and Commerce Bank explained that you must not only build a strong credit acumen to fortify your relationship with current clients and win over the hearts and minds of prospects; you also must work to become a trusted advisor to them and their business. Industry Intelligence can provide you the insider knowledge to attain that trusted advisor status, giving you insights into the ins and outs of that business owner's industry.
COLLABORATIVE RELATIONSHIP MANAGEMENT WORKSHOP
This session featured an interesting two-part workshop on how to develop more collaborative relationship management processes. These workshops featured leaders from Fulton Bank, Frost Bank, and Citigroup, who shared ideas on how lenders, relationship managers, portfolio managers, and underwriters can work more effectively internally to strengthen borrower relationships and streamline the approval process and account management.
In addition to emphasizing the importance of having the right team in place and creating a space where people can share ideas and voice concerns, one of the presenters noted the necessity of truly listening to the client in order to understand what problem they are trying to solve.
This is another instance where implementing Industry Intelligence into your processes can be crucial. By asking more customized, industry-specific questions (such as the Call Prep Questions you will find on each Vertical IQ Industry Profile), you will naturally get the client or prospect talking about the unique nuances of their business. With an industry-focused conversation, you are bound to get to the heart of the issues they are facing, allowing you to provide more tailored solutions, win more deals, and retain more business.
Looking ahead
The RMA Commercial Lending and Credit Risk Conference was a fantastic experience for the Vertical IQ team members who attended. We all enjoyed our time in Texas, sharing good times with existing colleagues and meeting new ones.
The conference shined a bright spotlight on the importance of understanding your client or prospect, as well as having a firm grasp on the industries that your bank wants (or doesn't want) within their credit portfolio…and why. Both of these critical tasks are simplified by tapping into Industry Intelligence.
We can't wait to see what RMA has planned for their 2023 conference! We'd love to hear from you on the conferences you have been to this year and have found valuable.
Check out some of the other conferences we've attended recently!
Image credit: RMA