This fall, our associates recall experiences from the events, conferences, and panels we attend by pulling five thoughts related to business growth, Readiness, and Industry Intelligence. This is the fifth blog based on our fall lineup of events!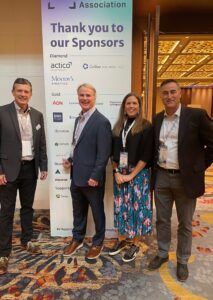 Our partners at the Risk Management Association (RMA) held their annual conference in Washington, D.C. last week, and we were delighted to attend. D.C. traffic aside, it was a great event filled with valuable insights and exclusive opportunities to connect with customers, both existing and prospective.
A huge focus of the conference, as always, was community banking. After all, it is vitally important for community banks – and any bank, for that matter – to have effective risk management and credit underwriting departments.
Community banks are essential to the growth and prosperity of businesses within their communities. So how can banks strengthen relationships with their communities, and what hot-button topics are currently affecting their risk management and best practices?
Knowing your people
Community banks really know their people. They are invested in their clients, supporting their community and strengthening those relationships, kind of similar to the theme of "It's a Wonderful Life." They are more about giving banking a personal touch, and this is a differentiator in a world that often doesn't have that focus anymore.
Industry Intelligence helps community bankers "personalize" conversations with both clients and prospects because it provides specific, timely, and relevant information on their industry or sector. It helps you develop a deeper understanding of customers' needs and goals, which in turn, helps build a stronger foundational relationship with them.
"Getting creative" with recruiting
Recruiting and retaining talent is difficult for many community banks in today's economic climate. For example, a lot of folks have shifted to remote work since the pandemic. Community banks may want to give their employees the flexibility to work remotely, but they also want them in the bank to build relationships with their customers.
Some banks had to become more creative with "two days in, two days out," general planning, and coordinating team meetings to get everyone in the office. A lot of people are now hesitant to take jobs without the flexibility of working from home, so this is something community bank continue to adjust to.
Assessing risk in relation to climate
Climate was a hot topic (pardon the pun): Instead of solely focusing on historical information and data regarding general climate and climate change, community banks are trying to focus on forecasting its economic impact in different regions.
Climate is a "big factor" risk depending on where the banks' customers are geographically located and if their industries could fall victim to hurricanes, flooding, earthquakes, wildfires, or other natural disasters. As far as climate change, it is important for banks to forecast risk in terms of the increased frequency – and in many cases, severity – of major weather and climate events.
Community banking and the cannabis industry
I was surprised how often this topic was brought up during the RMA conference. Community bankers are trying to figure out if and when they should loan to cannabis businesses. Because of different state legislative measures regarding cannabis, they need to assess whether or not it's worth it for their bank to take on that risk.
While some community banks are vehemently opposed, some are recognizing the high-ceiling potential of developing relationships within the cannabis industry in legalized states. I thought it was interesting how much this topic was brought up – there was even a vendor there whose product platform is based on a definitive cannabis industry corporate intelligence database.
This is definitely another hot-button topic to keep an eye on regarding risk and underwriting, as well as considering how Industry Intelligence fits into the puzzle.
Some general thoughts on the conference
RMA's first annual conference was all the way back in November of 1916, and it has always been a hit amongst community bankers. But because of the pandemic in 2020 and 2021, this year's conference was the first to be held in-person since 2019.
When you combine this with the popularity of the conference, it amounted to a lot of energy and excitement, as everyone was thrilled to be there in person. The high-energy atmosphere of the conference was great, and it gave us a great opportunity to both chat with current customers and have conversations with some new faces. We've said it before, but we are so happy to be back on the road – there's nothing quite like connecting with customers and prospects in person at a conference!
>> To learn how Industry Intelligence from Vertical IQ can provide specific, timely, and relevant industry insights for your community bank, click here!
Image credit: Bobby Martin, Vertical IQ