This fall, our associates recall experiences from the events, conferences, and panels we attend by pulling five thoughts related to business growth, Readiness, and Industry Intelligence. This is the sixth blog based on our fall lineup of events!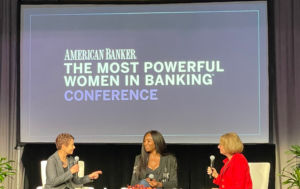 American Banker hosted its 20th annual Most Powerful Women in Banking Conference last week in New York City. Although this was our first time attending, I look forward to being a part of this conference in the future: It is empowering to be in a room full of so many successful women in an industry that is still predominantly male-led, and so many of these women had powerful and valuable insights to share.
One of the binding themes of the conference was building connections, and this theme resonated on both a business level and an interpersonal level. What can banks do to leverage relationship-building, and what measures can they take to promote equality and equity within their organizations?
"The path to success is the same path to failure"
One of the most powerful sessions at the conference, entitled "Unmeasured Strength," was the keynote from Lauren Manning – an entrepreneur, author, and 9/11 survivor. Lauren told her story of arriving for work at Cantor Fitzgerald in the World Trade Center, waiting for the elevator to take her up to the office. While waiting, she was hit by the fireball generated when the first plane hit the tower. Completely engulfed in flames, she made her way out of the building to a grassy area, where she was able to extinguish the flames.
She spent months in the ICU burn unit, followed by years of surgeries and recovery. Her message from the keynote, "The path to success is the same path to failure," really hit home with her story, and it also shows how fragile the line is between success and failure. The path she was led down had so many avenues for failure, yet she persevered, pulled through, and developed an "attitude for success." This "commitment to adapt," as she calls it, is something we must always keep in mind as business leaders.
You're never too "senior" to have a mentor
A panel at the event, entitled "Paying it Forward: Being a Mentor/Sponsor," touched on the importance of seeking mentors as you rise through an organization – and the fact that you never have too many years of experience to do so!
Sometimes, the best mentors show up when you don't realize it or when you least expect it. They help get you out of your comfort zone, stay connected, and stay relevant through shared content and consistent communication. Mentors are vital components of your professional development and growth – even after many years in banking – so it is important to keep finding and fostering those relationships every step of the way.
Developing strategic ways to listen
There were several panels that touched on building meaningful relationships with your clients and within your organization. It all starts with understanding the human impact of any sort of business or client connection. People like to feel valued and heard, so it is important to develop strategic ways to "listen" to them.
When it comes to communicating within your organization, leverage both listening and your voice to be highly impactful. Speak up and ask for clarification or explanations when needed, and be intentional about hitting your aspirations.
As for clients, try to remember the why behind your connection with them. For example, keep in mind that a prospective mortgage client isn't aiming to get a mortgage; their goal is to buy a home. Understanding the client's wants, needs, and goals beyond the "financial transaction" is absolutely critical, and this is something a tool like Industry Intelligence can help with.
Employee satisfaction and the bottom line
It is often said that people are a company's most valuable asset, and that could not be more true. Thousands of data points have been evaluated to gauge employee experience and how it can impact the bottom line, and the results have been telling.
The data shows that while compensation is a weak signal for human capital (even though the perception that compensation is fair is important), appreciation of the employee and their contributions rates amongst the top signals for employee satisfaction. Companies must embrace psychological safety in both their workplace and their hiring practices in order to organically build trust in leadership. In turn, this allows employees and applicants to feel comfortable taking appropriate risks.
It is important for employers to show appreciation – big or small – for both backward and forward work ("work already done" and "work to be done," in other words) and to provide the ability for everyone to be involved and in a position to innovate. Employee satisfaction directly impacts employers' bottom line, so put in the time to make it work!
Deploying capital to women-owned businesses
Gender equality is a very strong measure in business culture. And what better place to discuss this topic than at the Most Powerful Women in Banking Conference?
Venus Williams, Wimbledon champion, entrepreneur, and equal pay advocate, led a panel entitled "Achieving Equal Pay." In it, she stressed that the culture of women-owned businesses is typically very positive and forward-thinking, and developing relationships with them is a worthwhile capital investment for banks.
Women-owned companies often pay well, train well, and have a big societal impact – as women in entrepreneurial roles often have environmental, social, and governance agendas. In turn, banks need to become better at deploying capital to them if they don't want to fall behind. Vertical IQ's Sort and Target capabilities can help banks eliminate some of the guesswork involved in the process of identifying and targeting women-owned businesses.
>> Learn more about how Industry Intelligence from Vertical IQ can help banks build trusted advisor status with their clients.
Image credit: Courtney Farfour, Vertical IQ