Vertical IQ's latest eBook, entitled "Unlock Sales Readiness: Advice from the Experts," is available now! Along with it comes valuable insights from Sales Readiness experts, and in this blog series, we will bring you some of the highlights from our conversations with each of them. This is the introduction to our "Advice from the Experts" Blog Series.
"Readiness" is a term we use a lot here at Vertical IQ. We believe that having the right preparation tools – along with our trademark Industry Intelligence – can truly create separation between you and another organization in the eyes of your customers. "Readiness" fosters confidence, accountability, and actionability – and it makes your interactions with customers and clients more informed, genuine, and productive.
So how does "Readiness" relate to sales? How can your organization use "Sales Readiness" to differentiate itself, and how does Industry Intelligence fit in?
What is "Sales Readiness"?
The terms "Sales" and "Readiness" have a natural correlation to one another: The more "ready" you are to speak with a potential customer or buyer, the higher your chances are of making a lasting impression and completing a sale.
In its simplest form, "Sales Readiness" refers to just that: You want to know your prospects and potential customers before your first conversation. You need to have the wherewithal to anticipate their needs, challenges, and goals, and it's also important to have a firm grasp on the industry you are trying to sell your products or services.
At the end of the day, both "Sales" and "Readiness" are intrinsically connected to having strong customer relationships – and this is achieved by a combination of applying best practices and having the right preparation tools.
Advice from the experts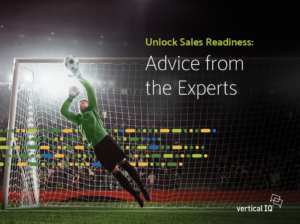 When it comes to sales, we believe that "Readiness Wins." Don't take our word for it. Our new eBook, Unlock Sales Readiness: Advice from the Experts, dives into the best practices of various sales experts across different industries, roles, and organizations. In it, we feature wisdom from some of the top experts and thought leaders across the sales landscape, including:
>> You can view and download the eBook here, and you also can stay tuned to our blog for future installments of our "Advice from the Experts" Blog Series.
Image credit: Vertical IQ