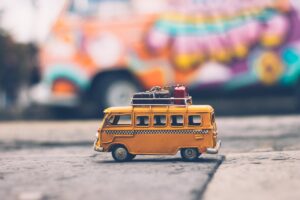 Put away your coats, throw open the windows, and celebrate: Spring is HERE! And with the blooming flowers comes tradeshows and events season — and blossoming opportunities.
As the Integrated Marketing Manager here at Vertical IQ, this is one of my favorite times of the year. Aside from the travel — which is always awesome — there are so many opportunities for us to connect with our customers and prospects in person. If you know us, you know we're all about relationships, so we'll take any chance we can to get out from behind the Zoom screen. We love any opportunity to shake a long-time customer's hand or eat lunch with some newfound friends, and that's the real beauty of these shows. Coming back well-caffeinated, energized with swag-filled bags, and full of lots of stories for the team — it's pretty easy to understand why we always love this time of year.
And of course, having the chance to share the power of our Industry Intelligence at these events is always a huge plus. So if you happen to be attending any of our upcoming events, we'd love to see you! Here is where you will be able to find our VIQ colleagues this Spring:
Risk Management Association (RMA) – Carolinas-Virginias (CAVA) Chapter Spring Conference – April 19-21  |  Norfolk, VA
We're kicking off the spring conference season, navigating uncharted waters with our RMA partners at the Carolinas-Virginia's Chapters' Spring Conference in Norfolk. Be sure to keep your Friday morning clear for a special session by our very own CEO and Co-founder, Bobby Martin: "The Business Owner Mind: How trusted advisor status is earned through understanding." I've heard that if you stop by our table, you might even get a Readiness Wins IPA…
Webinar: Reenergize Your Focus on Small Business Banking as a High-Priority Growth Segment – Wednesday, April 26, 2023 at 2:00 PM ET 
Not a fan of flying? The only travel this requires is over to your laptop! This highly anticipated webinar will feature both Bobby Martin and Mary Beth Sullivan, managing partner for Capital Performance Group and top banking industry thought leader. You will learn how prioritizing small business banking can help you forge stronger relationships with business owners, spark overall growth, and experience long-term success with this critical segment and its deposit, fee income, and lending opportunities.
Trust me, you're not going to want to miss this. Register Now >>
Abrigo ThinkBig – May 8-11  |  Miami, FL
What could be better than a Spring conference in sunny Miami? We are proud to be a gold sponsor at this industry-leading annual event, which is centered on driving growth and managing lending, portfolio, and financial crime risk. Our team is excited and ready to talk all about driving deposits and improving your risk management – as well as offer information on some of the deliverables available on our platform that can help!
Barlow Research's Business Banking Conference – May 10-11  |  Las Vegas, NV  
It's not truly conference season until you go to a show in Vegas, right? One of our long-time favorite shows, Barlow's Business Banking Conference is taking place at the famous Venetian Resort, channeling this year's theme: "Connect. Collaborate. Compete.". The 'who's who' of the business banking world will be there, focusing on how to elevate your service for business customers, and differentiating your offerings. Roll the dice and come chat with Senior Account Executive Alex Rousseau and Senior Customer Success Manager Ruth Keyes, and learn how Industry Intelligence can address those 3 Cs – as well as our own 3 Cs: Confidence, Competence, and Credibility.
S&P Community Bankers Conference – May 22-24  |  Frisco, TX  
Everything's bigger in Texas, including one of the biggest Community Banker's Conferences of the year! Giddy up and join us in Frisco for discussions on the latest measures community bank leaders can take to ensure their bank performs well now and in the future. The two key questions it asks: Can community banks maintain their momentum and excel through volatility? Can community banks continue to leverage financial technology to innovate to thrive? Be sure to come say "howdy" to our VP of Strategic Partnerships, Paul Hock, and learn about our rootin'-tootin' partnership with S&P!
Maximizing Tool Adoption and Performance Today – Real World Tips – Wednesday, June 7, 2023 at 1:00 PM ET
If you want to skip the lines at TSA, we have another opportunity for you to join us from wherever you are on the map! Tune in for this live webinar with Business Efficacy and Vertical IQ on the keys to successfully adopting sales enablement tools and programs into your banker's routine and maximizing your bank's investment. Simply put, championing adoption company-wide requires leadership engagement. The right leadership drives short and long term performance. Register Now >>
Other events we are attending include:
>> We've got our swag ready, now all we need is you! Schedule time to grab a coffee with us in person and keep up with all the events we will be participating by visiting our Events page. Safe travels, we hope to see you soon!
Image credit: Navia Navarro via Pexels