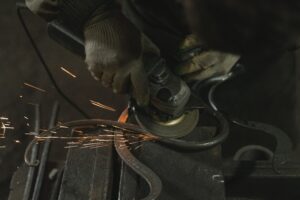 The resurgence of American manufacturing is a frequent subject of headlines, political speeches and conversations at industry gatherings. Factory jobs are booming! New factories are being built! Companies that once shipped jobs overseas are bringing them back to U.S. shores!
Indeed, the recent comeback by the domestic manufacturing sector stands out as one of the bright spots in an uncertain U.S. economy. While there's plenty of good news to share about American manufacturing – notably impressive job growth – a closer look at it and other metrics points to choppy seas ahead for some manufacturers, at least in the near-term.
Factory Jobs Rebound
Factory jobs have rebounded sharply since the pandemic-induced recession and – more broadly – the late-1970s, when the industry entered a 40-year period of declining employment. A surge in consumer demand for goods like furniture, appliances and building materials during the pandemic led the charge, bolstered by the return of manufacturing jobs from overseas and expanding foreign direct investment in the United States. The heightened demand for durable goods sparked by COVID-19 and other factors helped propel U.S. manufacturing output higher last year than it was before the COVID-19 recession, according to the Federal Reserve Bank of St. Louis.
Between April 2020 and August 2022, U.S. manufacturers added about 1.43 million jobs, a net gain of 67,000 workers above pre-pandemic levels. And as of March 2023, the sector employed nearly 13 million workers, up from a low of 11.5 million workers in 2010 after the Great Recession. (By comparison, manufacturing employment in the US economy peaked in 1979 at almost 20 million workers.).
Manufacturers are keen to hire even more workers, but they are thwarted by a stubborn labor shortage and skills gap that leaves the sector short by nearly 780,000 jobs, NAM President and CEO Jay Timmons said in his February address on the 2023 State of Manufacturing. Timmons hailed the resilience of the U.S. manufacturing sector and its role as the nation's economic engine despite economic headwinds.
Productivity Lags
Looking at job growth has its benefits, but focusing on it as a measure of success masks a more serious weakness: declining productivity.
According to the Information Technology & Innovation Foundation, productivity (a measure of real output per hour of labor) in the manufacturing sector is lower now than it was two years ago. Data from the U.S. Bureau of Labor Statistics (BLS) cited by ITIF shows that between the fourth quarter of 2020 and Q4 2022, manufacturing productivity declined by 0.4 percent – an indication that more labor was required to maintain the same level of output. By comparison, productivity increased 0.5 percent for the nonmanufacturing, nonfarm business sector. Between 2011 and 2021, manufacturing productivity experienced secular decline falling by 2.8 percent, after increasing significantly during the prior decade.
Moreover, job growth in the manufacturing sector has lagged the rest of the private sector, ITIF notes. Between January 2021 and January 2023, manufacturing employment increased by 6.6 percent compared to 9.5 percent for the nonmanufacturing private sector, according to BLS data. ITIF makes the case that "U.S. manufacturing productivity has been in a significant secular decline," lagging behind other major advanced economies in measures like industrial robot adoption.
According to the International Federation of Robotics, the United States ranked 9th in industrial robot density in 2021 (a measure of industrial robots per 10,000 workers), behind South Korea, Singapore, Japan, Germany, China, Sweden, Hong Kong and Taipei.
Other Troublesome Metrics
Other industry metrics, including manufacturing activity, also point to trouble for U.S. manufacturers. In March, activity in the sector slumped to the lowest level in nearly three years, and new orders plunged, Reuters reported in April. And analysts said activity could decline further due to tighter credit conditions.
Manufacturers are feeling the effects of the Federal Reserve's eight interest rate hikes since March of 2022, turmoil in the banking sector, and uncertain outlook for the economy.
The impact is reflected in the Institute for Supply Management's March 2023 Purchasing Managers Index (PMI) survey, which shows that economic activity in the manufacturing sector contracted in March for the fifth consecutive month following a 28-month period of growth. The manufacturing PMI fell to 46.3 in March, the lowest level since May 2020, from 47.7 in February. (A reading below 50 percent indicates that the manufacturing sector is generally contracting.) Disregarding the pandemic, it was the weakest reading since mid-2009. The March index shows that new orders, production, and backlogs all contracted, as did raw materials inventories and exports and imports. By comparison, the March PMI survey for the services sector was consistent with a growing economy.
Growth and Contraction
Of the six largest manufacturing industries, only petroleum and coal products, as well as machinery, registered growth in March, Reuters reports. Other manufacturing industries reporting growth were printing and related support activities, miscellaneous manufacturing, fabricated metal products and primary metals. Industries that contracted include furniture and related products, nonmetallic mineral products, textile mills, transportation equipment and computer and electronic products; as well as electrical equipment, appliances and components.
Key Challenges
A recent Manufacturers' Outlook Survey conducted by NAM identified key challenges for the sector. It found that more than three-quarters of respondents (75.7 percent) listed attracting and retaining a quality workforce as a primary business challenge, with supply chain challenges (65.7 percent) and increased raw material costs (60.7 percent) the next biggest impediments.
Of the 19 sectors within manufacturing, those best positioned for near-term success include automakers, pharmaceuticals, chemicals, semiconductors and construction, NAM's Chief Economist Chad Moutray told a 2023 State of Manufacturing panel discussion. Factors including enormous pent-up demand for vehicles, COVID-related need for vaccines and treatments, and government actions including the CHIPS and Science Act of 2022 and JOBS Act are favoring these industries.
And the industry is looking to Congress for more help. NAM is urging lawmakers to restore the immediate full deduction for research and development, which went away last year. A recent analysis by NAM finds that the industry would lose more than 59,000 jobs and face a decline in output of $31.69 billion this year if Congress fails to act. Other legislative priorities for the industry include: immigration reform to alleviate the acute labor shortage; permitting and regulatory reform to speed new projects and boost domestic competitiveness, and; energy security.
What's Next?
Manufacturing backlogs – a byproduct of supply chain disruptions caused by the pandemic and war in Ukraine – are dwindling fast, CNN Business reported in April. An analysis by Wells Fargo economists cited by CNN shows backlogs are expected to return to pre-pandemic levels within the next five months. As manufacturers exhaust their backlogs and demand for manufactured goods slows amid inflation and higher interest rates, manufacturing companies will begin to consider reducing their workforce, Shannon Seery, an economist at Wells Fargo, told CNN.
Their backlogs depleted amid a slow economy, companies will shift to supporting revenue and protecting margins by pulling back on capital expenditures or possibly laying off workers. Will manufacturers that have long struggled to recruit and retain workers be likely to let them go? That remains to be seen.
Keeping Tabs on the Manufacturing Sector
With the economic landscape shifting for manufacturing, it is crucial for anyone with clients in this sector to have and keep a pulse on what is happening – and Industry Intelligence can help by surfacing the most specific, timely, and relevant information that is necessary for understanding sector trends.
Our platform includes Sector Profile chapters such as Current Conditions, Sector Indicators and Drivers, and Sector Forecast, which are consistently updated and provide the most recent data and information for each sector. It also features a News tab for each sector and industry profile, which provides the most recent happenings and headlines concerning the sector or industry.
All in all, you can count on Vertical IQ to keep you up-to-date on the latest developments regarding the manufacturing sector – and more than 960 other industries or sectors – so you can provide the most actionable, convenient, and focused insights for your customers within this space.
>> Learn more about how Vertical IQ can help you keep your finger on the pulse of various industries.
Image credit: Tima Miroshnichenko  via Pexels