The following is a guest blog post by Pat True, the president of Lendovative Technologies, a Vertical IQ partner organization. With over 25 years spent in the financial services industry, Pat has expertise in both technology solutions and commercial lending.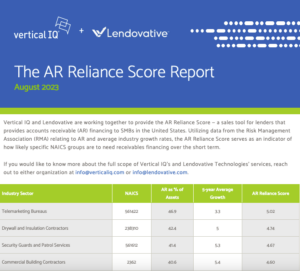 Let me start by introducing many of you to Lendovative Technologies. Our innovative technologies empower lenders – reducing risk, enhancing relationships, and providing unmatched visibility. In the process, our tools enhance the connections between financial institutions and the people they serve by taking the guesswork out of the lending process.
We are excited to be working in conjunction with Vertical IQ to introduce a new sales tool for lenders that provides accounts receivable (AR) financing to SMBs in the United States — the AR Reliance Score. Utilizing data from the Risk Management Association (RMA) relating to AR and average industry growth rates, the AR Reliance Score serves as an indicator of how likely specific NAICS groups are to need receivables financing over the short term.
By calculating AR as a percentage of total assets and merging that data with the five-year average growth rate of a specific industry, the AR Reliance Score is born, serving as a tool for loan officers at community-minded financial institutions.
Let us take the Security Guard and Patrol Services industry as an example – number three on our AR Reliance Score report. Within this vertical, on average, accounts receivable comprise just over 41% of total assets, representing a sizable portion of assets. If a business in this industry has an average growth rate of 5.3%, as shown, it is likely to seek accounts receivable financing from potential lenders.
Vertical IQ and Lendovative will jointly deliver the AR Reliance Score each quarter as a service to financial institutions that wish to grow their commercial and industrial loan (C&I) portfolios. Each report will include scores across 150 industries. In addition, we will provide a similar tool for inventory financing opportunities in the near future.
Given the sheer number of new businesses that have begun operations since 2019, financial institutions that offer accounts receivable and inventory financing will be in the driver's seat to develop new SMB relationships, including the valuable deposits that typically go along with these forms of financing.
When viewing this quarterly report, please keep in mind that we have chosen to include contracting firms on the list. Due to the presence of progress billings, retainage, and lien rights, general and subcontracting firms do involve special risk. We left them in the report because some of our clients specialize in serving this particular sector. This list is not a representation of potential credit risk, but rather an indicator that a specific sector is likely to need AR financing solutions.
We hope you find this new AR Reliance Score sales tool beneficial, and be on the lookout for its companion: the Inventory Reliance Score. Thanks once again to RMA for providing the source data for this initiative.
>> If you would like to know more about the full scope of Vertical IQ's and Lendovative Technologies' services, reach out to either organization at info@verticaliq.com or info@lendovative.com.
About Pat True, president of Lendovative Technologies
Pat is a seasoned lending technology specialist and former commercial lender with over 25 years of experience in the financial industry. He spent the majority of his career at Jack Henry & Associates, where he held several key positions including director of Banking Services and director of Risk Management. Prior to that, Pat served as senior vice president in the Business Banking division of NationsBank.
A highly respected thought leader, Pat is the author of numerous blogs and banking journal articles, including the RMA Journal, the Journal of Lending & Credit Risk Management, CU Times, and BAI Banking Strategies. Pat is also the author of a motivational book, "From the River to the Rat Race," which chronicles his previous eight-year career as a riverboat pilot.
Image credit: Vertical IQ