Here at Vertical IQ, we often talk about how our Industry Intelligence is "actionable, convenient, and focused," but what exactly do we mean by that? Well, we mean that you can utilize our content in numerous ways to quickly prepare for meetings and presentations, provide meaningful insights to business owners, and offer clients and prospects focused solutions tailored to their unique needs.
Let's take a look at a few specific ways that our actionable, convenient, and focused Industry Intelligence can help you nurture and deepen relationships with your clients and prospects.
1. Industry Intelligence provides the confidence to have a more in-depth conversation.
Today, business owners expect personalized service and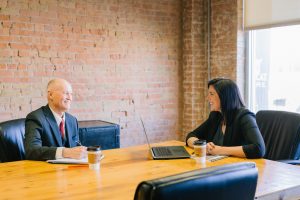 customized solutions. Industry Intelligence enables you to go into a meeting with confidence, armed with insights like, "I was reading that many paper product manufacturers are seeing increased demand for fine and premium types of paper, and are therefore shifting their focus away from writing and copier paper in order to boost their revenue. Are you experiencing something similar?"
An industry-focused talking point like this not only boosts your confidence, it provides confidence to the business owner. When you do your call preparation using Industry Intelligence, you'll have deeper conversations, and you're more likely to build a trusted advisor relationship.
2. Industry Intelligence allows you to share valuable content with a business owner.
How do you stay in touch with a prospect after a first meeting? How do you stay top-of-mind with a current client? Make no mistake: Your follow-up should not be all about you and your product; it should be about the client. (More on this later…)
At Vertical IQ, we encourage users to share our Industry Intelligence content with business owners. Yes, you read that right. As a registered Vertical IQ user, you are welcome to print content from our site to share with your clients and prospects.
For example, one way to be a value-added advisor and deepen your relationship is to give a business owner the Industry Profile that corresponds to their company. More importantly, highlight a few things that you think would be relevant to their business — something happening in their industry, a risk — then jot a personalized note in the margin. It's a leave-behind that's worth several hundred dollars.
Another option is to provide timely industry-related news articles. Include a note saying you read this and thought of them. Vertical IQ's News section makes this quick and easy, plus you can have confidence knowing that the articles have been carefully curated from reliable sources.
3. Industry Intelligence builds your client's confidence in you.
When I started my first industry research company, a client of mine told me they chose their banker because he was smart — that was what made him a good banker. So, the question is how are you making the client or prospect have confidence that you are the right person?
One way is to show that you are intelligent. Of course, from a business owner's perspective, your intelligence consists of your knowledge of your craft but also your knowledge of their business. The intersection of those two elements is what makes you a great advisor and provider of value.
Most business owners understand that the professional service providers they work with are generalists who have clients in numerous industries. But if you want your client to have confidence in you, you need to show up well-prepared, having done your pre-call research using Industry Intelligence. The client will almost always be more eager to work with an advisor who has taken the time to become knowledgeable about their industry.
4. Industry Intelligence gives you an informed starting point to solve clients' problems.
Clients buy solutions to solve their unique challenges, with "unique" being the key word. Every business is different and deals with its own individual nuances. The main question — whatever you're providing a product, service, or advice — is how are you helping the client deal with those unique challenges?
The best advisors are curious and patient enough to learn what issues a business owner is facing and address them. By using Industry Intelligence, they come into conversations prepared, informed, and able to ask good questions to start peeling back the layers of that onion. With this as their starting point, they can quickly understand what the problems are and then offer the right product/advice/solution to address it.
5. Industry Intelligence offers a way to stay in touch with prospects with data that is about them, not you.
Why do clients normally switch relationships? It's most often due to a trigger point — something that happens that makes a business owner feel there is a better option out there for them. That trigger point may come in two months or two years, but when it happens, you want them to think of giving their business to you.
So, how do you stay in contact and remain top-of-mind until that point? It's easy with Industry Intelligence, providing valuable insights about things THEY care about. Mail a timely industry-specific news article, and jot a note that it made you think about them. Drop off a printout of the latest trends within their industry and ask if they are seeing similar developments. Pass along industry benchmark data as a way to provide valuable insights into their competition.
All of these touchpoints aren't about you or your offerings; they are about them, their business, their industry. It's content that offers them useful information, elevates you to trusted advisor status, and importantly, keeps you top of mind when that trigger point occurs.
Relationship-building is a long game. Whether you are nurturing a prospect or looking to deepen a relationship with an existing client, Industry Intelligence is a fast, easy way to learn about the nuances of a niche, share valuable insights, and provide tailored solutions. Vertical IQ offers you the actionable content you need to stand out in a business owner's mind and rise above the competition.
Learn how to start using Industry Intelligence to deepen relationships by contacting us today!