Hot chicken, country music, and celebrities galore — could Nashville get any better? Well, when it's the site of the America's Small Business Development Centers (SBDCs) Annual Conference, the neon lights there seem to shine even brighter!
Nashville is known for its seemingly magic ability to make visitors feel at home, though I think the Vertical IQ team would argue that our friends, old and new, at America's SBDCs are a big reason for that. You might recall our exciting news from earlier this year that Vertical IQ was selected by America's SBDCs as its provider of choice for Industry Intelligence, and this made our visit to this year's conference even more special.
For those not familiar with SBDCs, let's catch you up. The purpose of America's network of SBDCs is to help start and grow small businesses. SBDCs across the country are affiliated with entities such as universities, state economic development agencies, and private sector organizations, and each SBDC is unique in its approach to regional industries and businesses. Each year, thousands of small businesses seek counsel, training, and financial planning advice from their regional or state SBDC.
This annual conference is where attendees gather from SBDCs worldwide to obtain professional development to help them grow as advisers who in turn help grow the thousands of small businesses they work with every year. This year's conference theme was "Reimagine Main Street," a concept that could mean something different to almost every one of the 1,400+ in attendance.
Among the speakers sharing their experiences and stories was someone who you could argue knows small business pretty well: Isabella Guzman, the 27th Administrator of the U.S. Small Business Administration. Guzman has made supporting small businesses her life's work and serves as the voice for America's 33 million small businesses and innovative startups. She began the conference's opening fireside chat saying that one of the words that everyone has heard countless times over the years has been "pivot." In fact, she said it's been heard "more times than 'yeehaw' at a honky tonk." Silly, but likely true! The concept of pivoting underscores the meaningful and impactful work of all the SBDC counselors from around the globe who have adapted and remained agile in a time where almost nothing has remained certain.
Guzman emphasized that economies that work for everyone mean leveling the playing field for small businesses — that our system and programs can and should be connected. She challenged the audience to imagine how the America's SBDCs can be a part of "investing in America," and that's what the 200+ breakout sessions over the week aimed to tackle.
Though we might be a bit biased, one of our favorite sessions was by our very own CEO, Bobby Martin. As someone who has had experience starting and selling his own business, Bobby understands the entrepreneurial spirit and the mind of the small business owner better than most. In his session, Strategizing with Business Owners: Creating Value with Industry Intelligence, he dove into the psychology behind small business owners' decision-making and how to earn trusted advisor status, as well as findings from his research study found in his book, The Hockey Stick Principles.
During the session, we were also incredibly lucky to be joined by a pair of SBDC experts: Anne Lancaster from the Maine SBDC and Candice Mays from the Georgia SBDC.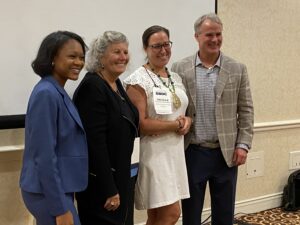 The two of them were able to lend their years of expertise to not only share how they gain business owners' trust, but how they leverage the Vertical IQ platform to do it. If you're curious how any business advisor can leverage Vertical IQ's Industry Intelligence, check out this quick read.
At the end of the day, our collective takeaway has to be that members of America's SBDCs are some of the most passionate champions of small businesses. Folks willing to journey from far and wide to connect and learn from each other on how they can strengthen the backbone of America's economy are truly people you'd be lucky to have in your corner (and advising your business). Reimagining Main Street is a promise to revive local economies, bring communities together, and forge the future for cities and towns across the country, and it all starts with our Small Business Development Centers.
We're incredibly thankful to the SBDCs for trusting us as their provider of Industry Intelligence, and we feel honored to be a part of such a driven organization. We've already marked our calendars for next year's conference: September 2024 in Atlanta. See you then!
Want to learn more about how Industry Intelligence can help start and grow your small business? Or what our favorite food spots in Nashville are? Click here to learn more about Vertical IQ and to request a demo!