"The best way to find out if you can trust somebody is to trust them."
— Ernest Hemingway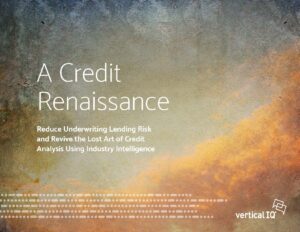 All healthy relationships, whether personal or professional, require a level of trust, and to build that confidence, you must show that you are trustworthy. That's why proving your credibility is so critical for banking professionals. Equally important is maintaining a reputation for being knowledge, honest, and fair.
For credit analysts and credit lenders, trustworthiness can come in many forms. It might look like:
Having a thorough understanding of credit and the lending process, and reliably dotting your i's and crossing your t's
Gaining expertise on the ins and outs of a client's or prospect's business — their buyers, suppliers, and competitors
Staying up to date about a business owner's industry such as how they operate, the latest trends, potential risks, and more – and sharing those insights periodically
But all of these approaches to gaining credibility take time. In some cases, it could take years of working within the credit realm in order to achieve the knowledge needed to attain a solid level of trust and believability with clients, prospects, or colleagues.
The retirement of your most credible
Further complicating the picture, the most experienced credit professionals — the ones who have been in the trenches for years and built a reputation on their expertise and reliability — are reaching retirement age. If they leave the bank without transferring their career's-worth of knowledge to the next generation of credit team members, your bank will be losing a valuable source of credibility. In their place are newer, less experienced credit team members who have not yet built a reputation for trustworthiness internally or with clients and prospects.
Now, youth and/or inexperience are not anyone's "fault," but they can present certain liabilities to the bank. The #1 job of any banker is protecting the bank's assets by reducing underwriting risks while simultaneously building the bank's book of business. If a commercial lender or credit analyst has not had adequate training or experience, they may simply be checking boxes rather than engaging in the necessary scrutiny of a deal's key details. Furthermore, their credit write-ups may lack sufficient depth, flow, and context.
Either of these scenarios can be detrimental to the credit team as a whole. It can result in lost credibility and confusion around the loan request internally, and can lead to frustration and a breakdown in trust with the client or prospect. But perhaps worse, it can jeopardize the bank's reputation and increase their credit risk.
Building up your credit team's "credibility factor"
The importance of this "credibility factor" really can't be understated. But the good news is that building a knowledgeable, trustworthy credit team doesn't necessarily require decades of experience. And crafting thorough, well-reasoned write-ups doesn't have to take countless hours of research.
With Industry Intelligence, your commercial lenders and credit analysts have access to the in-depth insights they need to build their expertise and credibility quickly and easily. Industry Intelligence puts trusted, reliable information right at bankers' fingertips, enabling them to get up to speed on the nuisances of a particular industry, which may make a credit deal more or less attractive.
For commercial lenders, Industry Intelligence can boost their credibility with a business owner, positioning them as a value-added advisor who can help their business succeed. Lenders can use Industry Intelligence to:
Prepare quickly for a meeting with a new prospect
Develop an industry-focused presentation tailored to the prospect's unique needs
Get insights into the latest industry trends, which a business owner may want to take advantage of
Ask salient, industry-focused questions to keep the business owner talking
Inform them about potential lending opportunities within the industry, such as equipment needs
Identify new lending opportunities with existing credit clients
Stay top-of-mind with the business owner by periodically sharing valuable industry insights
For credit analysts developing a write-up, they can utilize Industry Intelligence to build their trustworthiness and increase the team's confidence in the deal. Industry Intelligence allows analysts to:
Get a holistic understanding of what an industry does and how they operate, including common industry terms
Learn about the industry's cash flow, revenue, profit margins, and key competitors
Access details on potential collateral — like receivables, eligible raw materials or inventory, and equipment
Find details on underwriting considerations and common risks within the industry — as well as opportunities for growth
Compare how the business's financials stack up to industry averages using financial ratios and benchmark data
Consider the overall outlook for the industry — whether it is growing or shrinking — and their risk rating (Learn more about Vertical IQ's proprietary Industry Risk Ratings.)
Factoring the credibility factor into credit deals
Don't discredit the importance of the credibility factor! Having a comprehensive understanding of how credit works, the prospect's business, and their industry is how commercial lenders and credit analysts build up their trustworthiness. And with Vertical IQ, the Industry Intelligence your team needs to add value and boost credibility — internally during the credit approval process and externally with clients and prospects — is all at their fingertips.
Vertical IQ gives credit professionals both depth and context, accelerating the learning curve about the business owner's industry and building the lender's and analyst's trustworthiness, which is instrumental to getting a deal approved. Your team will win more sound credit deals and grow more relationships with the help of Vertical IQ.