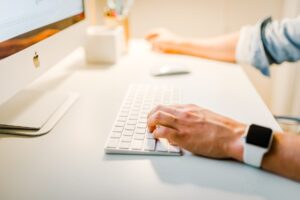 If we learned one thing from the events of 2020, it's that businesses must be agile in order to succeed. From adapting product offerings to shifting to remote selling, nearly every business had to make some type of adjustment to cope with the challenges created by the pandemic.
LinkedIn recently published their annual survey of B2B technology buying and decision-making. Synthesizing data from nearly 6,000 respondents (people who had researched, evaluated, bought, implemented, or renewed a new technology solution in the last 6 months), the survey found five key recommendations for technology marketers to succeed in what the researchers call the "Age of Agility."
You can access full details about the LinkedIn survey here, but there were a few statistics in particular that jumped out at me as relevant to those selling and marketing B2B technology products.
Speaking your audience's language
The LinkedIn survey found that 52 percent of technology decision-makers collaborate most often with their IT partners during the buyer's journey, but nearly two-thirds (63 percent) of buying decision influencers are outside of the IT department. Additionally, more than half (54 percent) of technology decision-makers are responsible for identifying new problems that can be solved by technology.
These are important facts for B2B technology companies to understand as they can (and should) impact their marketing strategy.
With so many non-IT people involved in the buying decision, tech companies must find effective ways to appeal to prospects' diverse array of internal gatekeepers. One simple way to reach these stakeholders is to speak their language. Using Industry Intelligence about their prospect's niche, sales professionals and marketers can make personal connections between the prospect's unique industry pain points and the solution they offer.
For example, by using Industry Intelligence to prepare for a call with a law firm, we learn that many law firms are using technology solutions to improve productivity while also reducing costs and addressing client information security concerns. For those in technology sales and marketing, this industry knowledge can help them ask more tailored questions and explain their value proposition in a way that is easy to understand for their specific audience, such as a law partner.
The conversation might begin like this:
"I know that a lot of firms like yours are implementing new electronic documents software to increase staff productivity and reduce overhead costs from delivery/courier services and records storage. Have you considered how technology solutions might be able to boost your firm's productivity while lowering overhead?"
Or…
"Many smaller law firms, like yours, are adopting software-as-a-service practice management systems to eliminate the cost of maintaining in-house servers and software. At the same time, firms are being forced to invest in enhanced information security systems and develop new policies on proper use of emails, electronic documents, mobile computing, and social networking tools. What challenges do you face in protecting the confidentiality of your clients' information?"
By speaking their language and framing your prospect conversations around day-to-day productivity, cost, or IT security concerns — rather than leading with your specific product — you help someone like a law partner connect the dots to how a technology solution can address an issue that might be keeping them up at night.
Stay in touch after the sale
The LinkedIn survey also uncovered the importance of continuing to nurture clients even after you close the sale. In fact, nearly half (46 percent) of technology decision-makers noted that an existing vendor's knowledge of their company's unique needs is a key factor when awarding new business.
This is another area where Industry Intelligence can help technology marketers and salespeople stand out from the crowd and drive cross-sell or upsell opportunities. One way to continue to nurture your customers is by sharing timely news about their industry. And it doesn't have to take up a lot of your time when you have the right Industry Intelligence tool at your fingertips.
Let's face it: Many business decision-makers (especially small to medium-sized business [SMB] owners) simply don't have the time to proactively seek out the latest information pertaining to their industry. As a result, they may be missing out on current trends that can help their business succeed or risk factors that can sink the ship.
A simple but effective client touchpoint is sharing a relevant news article about their industry and including a personalized note. For example, the communication to the owner of a commercial printing company might look something like this:
"Hi Sarah,
I saw this interesting article about how direct mail companies are increasing the number of campaigns they are sending out amid the pandemic since people will likely be on lockdown for a few more months.
More and more commercial printing companies like yours are offering variable data printing, which allows personalized content to be added to these types of direct mail campaigns. Do you have the technology in place to offer this type of custom, one-to-one marketing?
I'll call you Tuesday to discuss how this service offering can boost your print volumes…"
Again, with a message that focuses on an industry-specific issue, you aren't leading with product, but you B2adding value to the relationship and offering solutions. It shows that you have your finger on the pulse of your customer's industry and are looking for innovative new ways to help their business succeed. It's a great way to stay top-of-mind and increase the likelihood that they will come to you with their next technology opportunity.
Personalized communications yield customized technology solutions
Technology is supposed to make our lives easier, right? As this LinkedIn survey reveals, however, technology decision-makers are increasingly looking for more than just a tech product or service. They want to work with a vendor who understands their business and can help solve their unique problems.
For technology marketing and sales professionals, incorporating Industry Intelligence into your customer and prospect communications is not only a huge time-saver, it can also be a game-changer.
When you understand the underpinnings of a niche, you can have more personalized conversations and ask better questions that delve into the challenges your customer or prospect may be facing. And armed with this critical insight, you can provide the tailored solutions that today's technology decision-makers demand.
If you are interested in learning more ways that Industry Intelligence can deliver results, check out this infographic on Using Industry Intelligence Throughout the Buyer's Journey.
Image credit: Austin Distel, Unsplash