How time flies when you're having fun! This is the final installment in a series of four blog posts commemorating the 10-year anniversary of Vertical IQ. Each post features one of our company founders sharing their memories and thoughts on Vertical IQ's early days.

Related:
Vertical IQ co-founder and Clarity Advantage president Nick Miller has been working in the banking industry for most of his career. Nick and Clarity train banks and bankers to attract and develop deeper relationships with small businesses.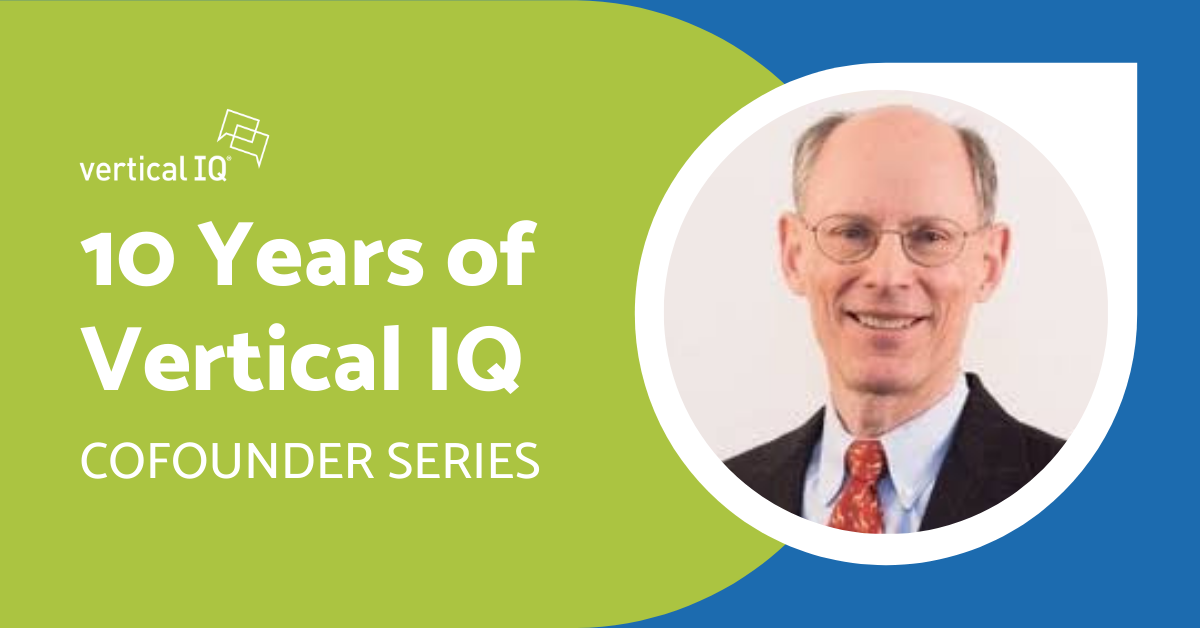 "Bobby and I first connected at a conference and discussed our shared philosophy that call preparation and industry knowledge are integral to business bankers' success. So, 10 years ago, when Bobby started pondering the idea of launching a new Industry Intelligence tool, we met on a rainy afternoon at a coffee shop in North Hills, near Raleigh, to share ideas on what this hypothetical Industry Intelligence tool should do.
"I told him, from my perspective working with bankers who are calling on small businesses, bankers need easily accessible industry information oriented to salespeople rather than credit analysts.
"So we talked about: What are those key things that need to be on the first page of industry information if a salesperson only has time to look at that one page to prep for their call? Bobby and I put our heads together and drew on a piece of paper what turned out to be the first screen of the Vertical IQ Industry Profile.
"I knew we had a good idea for a product, and I agreed to invest both startup capital and sweat equity. Bobby recruited Bill Walker. Bill started writing profiles and sending them to me for comments. I also wrote content for the product knowledge portion of the website.
"Meanwhile, Bobby and Susan were going around the country, trying out ideas and asking prospective clients, 'Would you buy this?' — trying to scare up that first round of clients while gathering feedback to generate ideas for the product. It was an all-hands-on-deck effort in those early days."

Adding value at every turn
"Like Bobby, I've long believed that conversations with clients should add value that the client would say is worth paying for. As a business owner myself, I feel impatient with bankers who come in and say, 'Tell me about your business' without any knowledge of my industry.
"I have no patience for that because I think bankers have an important role to play, especially with small business owners. Their accountants handle their taxes; their financial planners manage their investments; but in most cases, nobody is looking at their companies from a business health point of view. Their bankers should do that.
"That's why call preparation using the Industry Intelligence on Vertical IQ saves time for the banker and for the business owner. It opens the door to more productive conversations.
"Industry Intelligence also creates opportunities for the banker to demonstrate value throughout the relationship — asking questions about things that are happening in the business owner's industry, sharing information on trends, providing tailored solutions based on their understanding of challenges and risks within the industry, and providing that big-picture financial advice on the business owner's company that other advisors to the business may not be providing."
A rewarding collaboration
"This journey has been so rewarding because Bobby, Bill, Susan, Ken, Christy, Laura, and others are good people. I've felt a very positive vibe about being part of the Vertical IQ clan. It's been a huge source of encouragement and satisfaction to see them turn an idea that started on a small piece of paper in a coffee café into a robust and valuable tool."