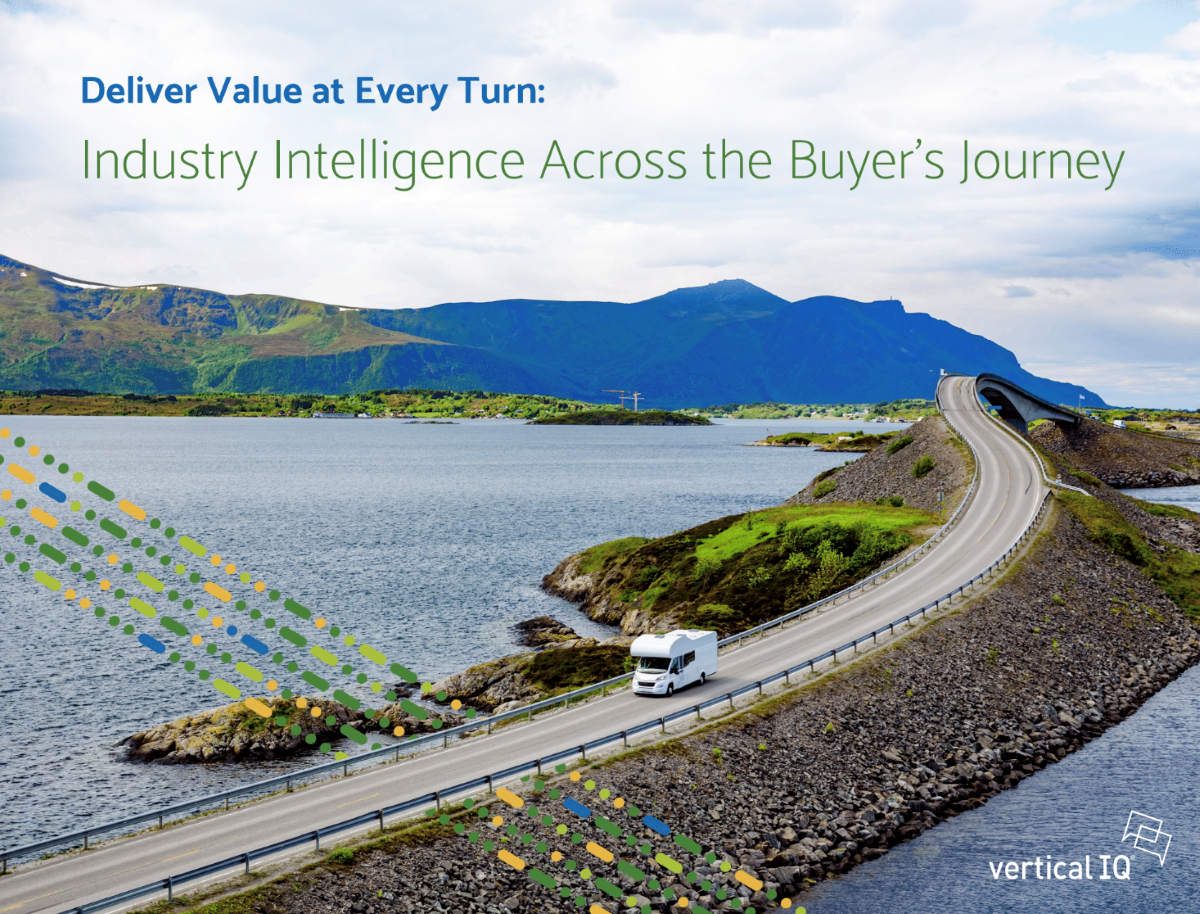 What is a brand or product that you absolutely love and can't (or don't want to) go without? We all have them. Maybe it's a food/beverage brand (like Mountain Dew for me!) or a clothing line. Perhaps it's a particular store that you're repeatedly drawn to. Or it could even be a favorite travel destination — a spot you love to return to again and again (for me, it's the mountains of North Carolina). What exactly is it that creates that product or location's appeal for you?
There are any number of reasons that customers are loyal to a business to the point that they become a brand evangelist — someone who happily promotes that company or product to others. Exceptional customer service, appealing product/service mix, and consistent quality are just a few of these influencing factors.
How can you help your company become that go-to brand for your customers? Well, we will let you in on a little insider tip: Whether you are a banker, accountant, financial planner, or any other sales professional, Industry Intelligence is your company's secret sauce.
>> Download the free eBook, Deliver Value at Every Turn: Industry Intelligence Across the Buyer's Journey
Loyalty means repeat business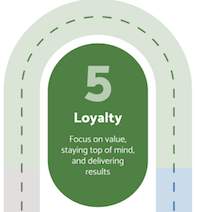 In my last post, we shared how you can be your client or prospect's co-pilot as they navigate the decision and adoption stages of the buyer's journey. We explained how using Industry Intelligence during these stages helps set your institution apart from competitors. We also offered ideas on how to help your new client's team get up to speed and adopt the solution you're providing.
But you're not quite done with the journey yet. We all know that repeat business is good for both shortening the sales cycle and boosting the bottom line. That's why you want to not only retain the client, but hopefully expand that relationship, which means building loyalty. Industry Intelligence can guide the customer along so that it's all systems go when it comes to retention and expansion.
Here are some ideas to help your customer avoid potential roadblocks, further build their trust, and capture upsell opportunities during the loyalty phase using Industry Intelligence.
Maintain engagement by sharing relevant news articles as well as information on the latest industry trends.
Add further value to the relationship by passing along industry-specific projections and impacts of current events like COVID-19.
Share quarterly insights, which include the latest facts and figures about what's happening in the industry.
Help clients understand how they compare to others in the industry with financial benchmarks, and how those numbers might impact their long-term growth strategy and/or succession plans.
And remember: The goal of all of these loyalty mileposts is to create an exceptional customer experience, putting you well on your way to becoming an irreplaceable trusted advisor to them and their business.
          >> Related: Hit the Road to Deliver Value Throughout the Buyer's Journey (Part 1 of 3)
Upgrade loyal clients to advocates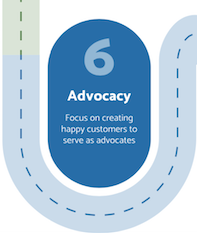 They say that there's no better advertisement for a business than word-of-mouth. Think about it: When you have a buying decision to make in your own life, what do you do? If you're like me, you probably ask friends or family. And in today's online shopping era, we also consider customer reviews.
But turning a customer into not only a loyal, satisfied customer but into someone who will eagerly advocate for your company to other people they know doesn't happen by chance. It takes hard work and the effective use of Industry Intelligence to build that trust, loyalty, and eventual fandom.
Use Industry Intelligence during this final stage of the buyer's journey to inspire clients to become advocates. These simple industry-focused touchpoints and tips will increase referrals and expand your business:
Stay in touch with customers by sharing Quarterly Emails, which include updates on their industry, spotlighted articles, and any notable financial trends.
Continue to add value to the relationship with shareable content, industry-focused presentations, and detailed regional and economic data — all acumen you've been perfecting over the course of the buyer's journey.
Bonus idea: Identify industry trade organizations, which will not only increase your expertise on the industry but can serve as a ready-made source of new referrals.
Once you achieve the level of customer satisfaction in which they will happily expand their relationship with you and even advocate for your company to their peers, you've officially arrived at your final destination on the buyer's journey. Isn't it a glorious sight to behold?
          >> Related: Become a Trusted Co-Pilot on The Buyer's Journey (Part 2 of 3)
Put Industry Intelligence on your itinerary
As you can see, Industry Intelligence can be the turbo-charged engine that propels prospects and clients through the buyer's journey. By adding industry-specific information at each stage of the sales process, you can win, grow, and retain more business. And Industry Intelligence actually gives you the fuel to bypass objections and fly past the competition.
          >> Learn more about using Industry Intelligence throughout the buyer's journey with our interactive map!
An expert navigator for their journey
Are you ready to take the wheel to guide your clients and prospects through all six stages of the sales process? Then climb aboard, and let's explore ways to deliver a better, more tailored experience in every phase of their trek. Vertical IQ's newest eBook, Deliver Value at Every Turn: Industry Intelligence Across the Buyer's Journey, will show you the way.